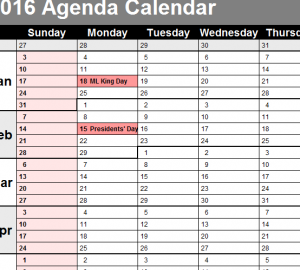 The 2019 Perfect Schedule Calendar is your chance to start organizing your busy schedule this year. You can get more done than you ever thought possible! This template is easy and free to download as well. Everything you need will be available on one page, which translates to you spending less time scheduling and more time simply enjoying your life. You can everything needed to plan the perfect schedule and master the New Year. Just download this completely free template today and get started on your path to achieving all your set goals and plans!
How to Use the 2019 Perfect Schedule Calendar
Start by customizing the document to suit your unique tastes. At the top of the page, you'll adjust the year and titles of the document to the current year and name the template something that will make it seem more personal.
From there, the template is pretty straightforward and simple to use. The top row consists of all the days of the week and the first column of the page lists the months of the year.
Each cell of your new template represents a day of the year. When you have something planned you want to enter, simply click the cell and start typing. You can take this a step further by highlighting the cell and clicking the bucket icon at the top of your screen to choose a unique color.
When you have everything you need to be scheduled entered into the document, press "File" then "Print" at the top of the page.
Why You Should Use the 2019 Perfect Schedule Calendar
By using the 2019 Perfect Schedule, you will have all the tools necessary to start succeeding at anything you set your mind to. The only thing holding most people back is poor organizational skills. This template allows you to really reflect on your goals, plans, homework assignments, and everything else to come up with the most efficient way to cross that item off your list for good!
X
Your free template will download in
5 seconds
.
Check out this offer while you wait!