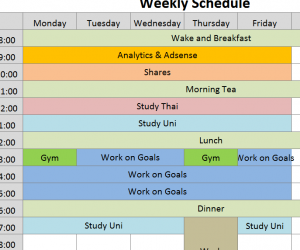 The 2019 Weekly Social Media Calendar is just what you need to start taking those rough post ideas and polish them into diamonds! You can use this completely free document to enter all your posts for the week and have a detailed list when you finally decide to sit down and get to work. People have great ideas pop into their heads from time to time; unfortunately, people tend to forget them easily. This template will allow you to capture the heart of your golden ideas and have them readily available to write in more detail on your time!
How to Use the 2019 Weekly Social Media Calendar
Start by customizing the template; really add your own flare to this document. The title is a nice place to start. Make it something unique, a title that truly fits your personality.
In the left-hand column of the page, there is a list of times. These are the times you most frequently post your material during the day. To change the pre-written times, just click the cell and enter a new number.
Under each column, after your set times is a day of the week. You will use both the first column and the top row to organize your social media posts.
Go through the week and enter your post ahead of time in the corresponding day and times. The template also lets you list your plans for the day in general. If you perform the same activity multiple days in a row, you can just extend the bar through all those days.
There are many examples of this listed on the document already. To change the color of your bar, simply highlight the appropriate number of cells and click the buck icon at the top to choose your color.
You can schedule anything you want using this simple planner!
Why You Should Use the 2019 Weekly Social Media Calendar
The calendar template is your way to stay on top of all your posts. Whether you want to use these platforms for business marketing, your online presence, or simply blogging about a passionate hobby, this template can help you!
Download: MET-2019-Weekly-Social-Media-Calendar
X
Your free template will download in
5 seconds
.
Check out this offer while you wait!