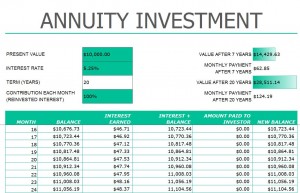 Do You Need an Annuity Investment Calculator?
This annuity investment calculator can make quick, simple work of what is, for most, a confusing task. Annuities are exciting investments. They offer many benefits that other investments simply do not, like the security of knowing that you have a reliable, long term income stream from your investment.
They also offer a little protection against negative market changes and fluctuations, and your investment will grow under a tax shelter until you withdraw it. Many people are drawn to annuities for these reasons, so if you currently have an annuity or if you are considering getting one for yourself, you should have your own investment annuity calculator. There are two types of annuities, fixed and variable. Even if you choose the fixed annuity, there are still some changes that you might have to check in on from time to time.
On a fixed annuity, you return rate changes are stipulated in the initial contract, though you might have a different return rate one year and a different rate another year. With a variable annuity, an investment annuity calculator is even more essential because you are investing in various sub-accounts that will all perform differently, causing your return to be different every time.
This Excel sheet is simple and easy to use. When it comes to financial matters, simplicity is extremely useful. It's plain text and basic design also make it pleasant to use. Perhaps this template's best feature is the fact that not only is it useful, it is also free.
How to Use Your Annuity Investment Calculator
Basically, all you do is enter the monthly value amount of you investment into the calculator, followed by the present value. Then enter the contribution of your re-invested interest on a monthly basis and the interest terms of your investment. The calculator will then display the the automatically calculated values and interest on your account. If you get confused along the way, you will receive instructions with every mouse-over/click for each fill-in value.
Tips on Using Your Annuity Investment Calculator
It's best to keep all of your annuity investment information together so that when you are ready to calculate the value of your returns, you can just sit down comfortably and do so without foraging through all of your drawers and cabinets to find paperwork and figures.
Keep all of your correspondence together as well, because this will have the most recent information about your account.
You should use your calculator at least once every three months, but you might want to use it as often as once a month.
Periodically, you should save a copy of your calculator under another name, but keep a blank copy of your template at all times so that you can always use it. Over the years, you might want to take a look at how your investment has been performing and what types of returns you've been getting.
Download: Annuity Investment Calculator
X
Your free template will download in
5 seconds
.
Check out this offer while you wait!