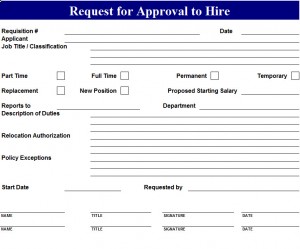 It can be frustrating to have employees coming to you about new hire applicants, and only having half the information you need. You're constantly interrupted from your work to hear information you can't possibly remember. The Approval to Hire Request Template will help you organize the chaos of the workplace by carefully listing all the information for a new hire in a printable document. The template can be dropped off at your desk or office, for you to view at your convenience.
How to Use the Approval to Hire Request Template
Simply download the file below and select an easily accessible location on your computer. Click on the file to open the template. As soon as you have the file open, you can see how easy the Approval to Hire Request document will make your day, especially during the busy season of your industry.
This template has all the necessary information already filled out, and waiting to be customized for your organization or company. Inform any Human Resources employee to fill out the different sections, such as: position, date, department, or their work status (Part-time, Full-time, and other). This template can be customized to fit any working environment, so you can change the Hire Request document to coincide with any system you may already have in place.
Once all of the information has been properly formatted to suit your organization, you are ready to print the document for the new hire, by clicking "File" in the top left corner of the page, and then selecting "Print" or "Print Preview", if you want to see how it will look on the page prior to printing the template.
Top Features of the Approval to Hire Request Template
Simple and easy to follow format
Fits into any system you already have, with minimal changes
Includes examples of all the necessary information, if you are unfamiliar with this type of form
Download: Approval to Hire Request Template