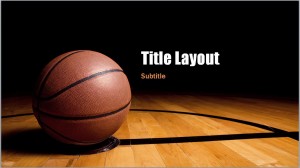 Having a unifying theme for a presentation can make it coherent and easy to follow for audiences. A disjointed presentation which is not bridged together by a unifying theme can be hard to follow for audiences and could be the determining factor in success or failure. A Basketball Presentation can be used to create a holistic message from start to finish.
Whether the presentation is centered on the game of basketball, or just needs to be focused, this template can be a major asset. Commonality among all slides will increase the engagement for the target audience and make it easier to recall the main message long after the presentation is finished. Using a Basketball Presentation template will show the audience the effort put into the presentation, and reflect professionalism and passion about the topic.
How to Use a Basketball Presentation Template
First, download the free Basketball Presentation template and save the document. Open the template and give it a unique title to instantly engage the audience.
Next, identify key points to be made during the presentation. Put these points in prominent positions wherever you want within the easy-to-use template.
After that, add supporting details and other information to the open spaces on the template. Titles, subtitles, bullet points and layout can all be easily customized to fit the content while maintaining the symmetry of the presentation.
Then, edit the final production of slides by using a variety of transitions. Keep the audience interested and entertained with creative movements from one slide to the next.
Tips for a More Effective Basketball Presentation
Use text features to highlight key words or phrases. The highly customizable features of the template allow for text to be highlighted in a variety of ways. Increased font size, special fonts, or making words bold can all draw the audience's attention to a key point.
Include videos, graphs, or other visuals to articulate information. Often, words can lead to confusion or be more difficult to understand than a simple graph.
Videos and pictures can increase the viewer's interest in the Basketball Presentation. Videos are especially effective at the beginning of the presentation.
Explore different layouts within the customizable slides. The easy to use template allows for total freedom to create a layout which enhances the content.
Utilize different background images to transition among topics. The template has a number of dynamic background images which can be utilized to reflect a change within your presentation.
This Basketball Presentation template gives the audience a thematically unified message while allowing the customization and personalization to increase effectiveness.
Download: Basketball Presentation
X
Your free template will download in
5 seconds
.
Check out this offer while you wait!