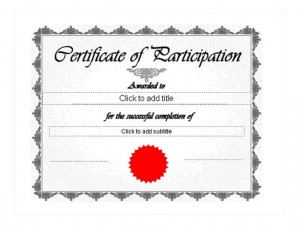 For Microsoft PowerPoint 2003, there is a Certificate of Participation Template you can download here for free that will help you prepare an award quickly and easily. You can customize it as you like and use it for many different situations. Here is a quick look at how to use the Certificate of Participation Template and a couple of tips that will help you get the most out of the document.
Tips to Using the Certificate of Participation Template
There are not many steps you have to take before completing the template completely. When you download and open the file, PowerPoint 2003 or other compatible software will show you the basic outline of the award that you are creating. There are two main bits of information that you need to provide including the name of the recipient and the name of the program that the individual is being honored for completing.
The name will go in the area that says Click to add title and the program's name will go where Click to add subtitle is. The last thing you can do to complete this award is adding a seal or a logo where the red pointed figure is near the bottom. Once you have that information put in and the picture added you are ready to print out and use the document.
Tips for Using the Certificate of Participation Template
If you want to add some more things to the award before printing it out, feel free. Expanding on the section that is meant to hold the name of the program that is being completed can be a good idea. You can enter information relevant to why the individual is receiving the award. Focus on their achievements and recognize the award winner for what they have done. If you wish to make another award for a different reason, you can simply change the Certificate of Participation to something that better suits the situation.
You could make awards for honorable mentions or even make one that is for perfect attendance. You can change the line for the successful completion of to something that fits better with the new award you are making and, like before, explain under that why the individual is worthy of such an award.
The Certificate of Participation Template is simple and easy to use. You will have your awards made in no time and be ready for the ceremony. Download this file here and use it any way you like.
Download: Certificate of Participation Template
X
Your free template will download in
5 seconds
.
Check out this offer while you wait!