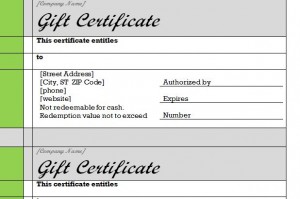 No matter what walk of life you're from, no one can deny loving free stuff. In that same vein, who can say that they don't love receiving a gift certificate for their favorite shop, store or restaurant? If you're a business owner, handing out gift certificates is a sure-fire way to draw attention and get foot traffic. But how do go about creating the perfect gift certificate? Enter the gift certificate template Word document.
With the gift certificate template Word document, nearly all the work is done for you. After completing a few simple steps, you will have a personalized gift certificate you will be proud to hand out to customers. All businesses, no matter the size, will love the fact that this incredible gift certificate template Word document from Microsoft can be downloaded with one click at zero charge.
Gift Certificate Template Word: Filling out the Template
No matter how computer savvy you are, filling out the gift certificate template Word document is nothing short of a breeze. You will begin by entering the name of your business or company above where the template reads "Gift Certificate." The next section reads "This Certificate Entitles….To." This area can either be left blank so you can add recipients to them as you see fit later, or the name of those you would like to receive the certificate can be typed in ahead of time.
Next, you will add the street address, city, state, zip code, phone number and website for your business. It's important to remove all brackets while you are completing this step. Underneath the business information reads "Not Redeemable for Cash" and "Redemption Value Not to Exceed $00.00." This allows the recipient to know exactly what they are entitled to as a result of holding the gift certificate. You can change the monetary value in the gift certificate template word document however you see fit.
Finally on the Microsoft Word document, there is a section reserved for noting who authorized the gift certificate, when the certificate will expire and the number of the certificate that has been issued. This section will help you keep tabs on the certificates down the road.
The gift certificate template Word document is completely customizable. You can change the font and color scheme to match your business. You can also add pictures or clip art reflecting your logo or company slogan. Once complete, simply print off the page, cut the certificates and you will be ready to see happy customers walk through your doors.
Download: Gift Certificate Template Word
X
Your free template will download in
5 seconds
.
Check out this offer while you wait!