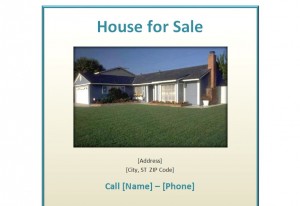 The house for sale flyer template is a great tool to use when trying to sale a home. It allows potential buyers to get the information they need to interest them in the home. This template is free to download. It can be downloaded right from this page. The template is customizable to fit your needs. The template is absolutely easy-to-use.
How to Use the House for Sale Flyer Template
Be sure to put a picture of the home on the house for sale flyer template. The picture should be of the outside of the home.
List the address to the home including the city, state, and zip code
Place the name and phone number the potential buyer should contact about buying the home.
Below, list features and facts about the home that would interest the potential buyer. This would include the cost of the home, room sizes, and school district.
Tips for Using the House for Sale Flyer Template
You can use the following information on the house for sale flyer template for the features and facts needed:
Acre amount the home is sitting on.
Square footage of the home.
Number of bedrooms the home has.
Number of bathrooms the home has.
The average property tax amount for the home.
The school district the home is located.
Any extra rooms that the home may have.
The appliances the home comes with.
The price of the home.
List any swimming pool, fenced yards, or hot tubs that may be on the home's property.
Be sure to download your free template today in order to get started on customizing it. It will help ensure more potential buyers will be able to locate your home and be interested. The more facts and features you can place on the template is going to help guarantee the potential buyer will have all the information they need to come and look at the home that is for sale. Get started with your free template today!
Download: House for Sale Flyer Template