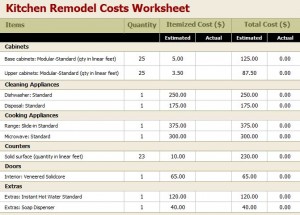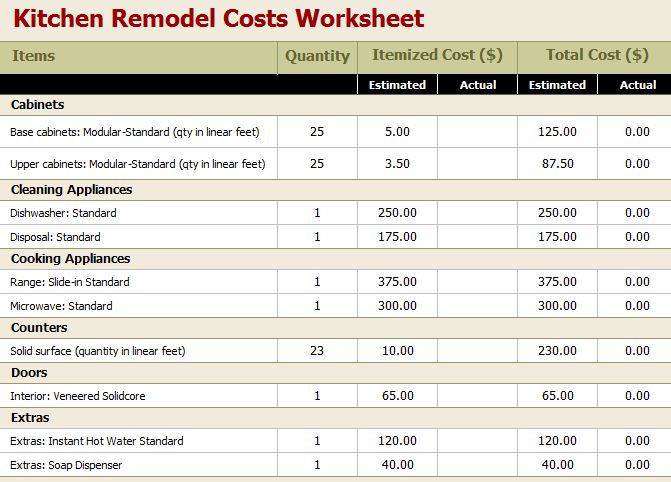 A kitchen remodel cost calculator is the best way to keep expenditures in line. The cost of materials and the time it takes to put them together is expensive. With the free kitchen remodeling cost template everything you spend can be accounted for. Once the project is done a complete itemized list of money, materials and purchases will be accounted for.
The kitchen remodeling cost template is a free download. It is a customizable template that helps keep you on track when you have a kitchen project. It is easy to be swayed by so many wonderful elements you can put into a kitchen. Light fixtures, cabinets and lovely counter tops. All of these things are nice, but they cost money and very few people have an endless source of cash. So, for this reason a schedule of expenses is wise.
Using the Kitchen Remodel Cost Calculator
If you are adding storage to an older kitchen you want to start out knowing where you need the new space and how much it will cost before investing time and money. List the changes on your cost analysis kitchen remodel cost calculator and keep a better record of your expenditures. The templates have a space to list each cost item in real price increments.
Once you visualize your project, you are ready to choose the merchandise and schedule your cost. Your budget may be to buy your flooring, then purchase counter tops. Maybe money is a little less of a problem and everything you need is purchased at once. There are many ways to budget for a kitchen.
Stockpile the things you need and have them installed once you have everything you need. This is a good way to get exactly what you want. Storage may be a cost if you are a Do It Yourself person. No matter, a cost directive makes good business sense with every item in a compact list. This template has a listing for any number of items. The list also lets you show estimated and actual cost for:
Doors
Faucets
Cabinets
Flooring
Refrigerator
Laundry appliances
Cooking appliances
Simply list your styles and cost and never lose sight of your cost factor. Renovate or build a kitchen the way you want it and keep a handle on what you are spending and the material s you are buying. This template will also help you keep the decorating style together.
Once you look at the list you will know what styles are chosen and keeping track of coloring, wood tones, light fixture styles and counter top types. This template keeps everything together.
Download: Kitchen Remodel Cost Calculator
X
Your free template will download in
5 seconds
.
Check out this offer while you wait!