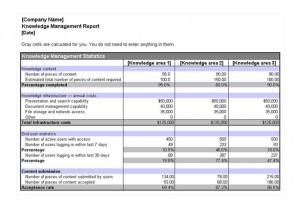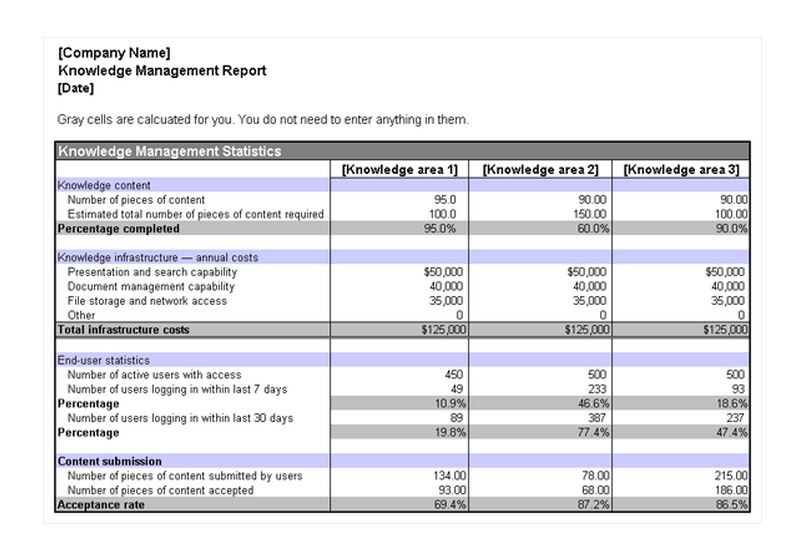 Aspiring young project managers are the first to run out and buy a cool new project management program, and many of them, are indeed, very cool. Yet project management gets down to categorizing, scheduling and performance analysis, all of which you get from a spreadsheet. This is the common thread, even in many of the project management super programs. A more seasoned project manager, one that is interested in actual managing more than just a cool new program, might find themselves happier using free templates from Microsoft. One very useful template offered to managers is the knowledge management report.
Using the Knowledge Management Report Template from Microsoft
For projects involving research, human resource procurement and employee training, analyzing knowledge is a key indicator of performance. With this spreadsheet, many of the most crucial analytical categories are spelled out. Knowledge is defined by specific categories. Knowledge requirements for certain projects are quantified and tracked to see how much is applied. Training costs, retention rates and knowledge turnover efficiency are tracked. This becomes a valuable tool in analyzing cost and effectiveness of knowledge needed, or the knowledge received from training sources.
This knowledge management template is one of several templates available to project managers, business owners or CEO's. This particular one is extremely useful in putting actual numbers on a subject that is usually hard to quantify. Other useful templates help in basic project management, lessons learned records, project budgeting and several other areas.
The benefit of using these simple spreadsheets is that they are totally customizable. If you feel the need to add or delete categories or arrange them so that they reflect your projects needs, it can be done easily. Even those with the most rudimentary knowledge of Microsoft Excel will have the ability to use these programs.
Excel templates on all kinds of subjects are available along with the knowledge management report on this site. All of them can be considered a free resource to Microsoft Office 2007 users. They are free, easy to use and easy to download. If you are a project manager, and need a program that can help you organize without offering a bunch of extra bells and whistles, look up the knowledge management report. Once there, look up some of the other templates. It can only help.
Download: Knowledge Management Report
X
Your free template will download in
5 seconds
.
Check out this offer while you wait!