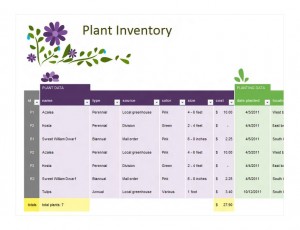 If you are planning a change to your yard or thinking of putting in a garden but just don't know where to start this Lawn and Garden Checklist can help you. It is quick and easy to use and it is completely customizable so you can plan your yard or garden however you want to. It is free to download and you can get it right here on this page.
How to Use the Lawn and Garden Checklist
Download the customizable Lawn and Garden Checklist from this page. It's completely free to download.
Customize the fields so that they will contain the information that is relevant to your yard or garden project.
Save a blank copy to your computer in case you need it again.
Fill out the checklist with whatever you need for your project. It may be grass seed, a variety of bulbs, or even vegetable seeds. Remember that it is completely customizable.
Beginning at the top of the list, check off each item as it is completed. You may even want to check things off twice, once for purchase and a second time for after they have been planted.
Tips for Using the Lawn and Garden Checklist
Remember to save a copy of the Lawn and Garden Checklist both when you download it and after it is customized. This will give you the chance to use the same one over again or to start a different one for your next project.
Be sure that you include everything that you are going to need for your project on the checklist. You don't want to miss something.
Try to check things off one at a time as you go along. This will prevent confusion while you are working on setting up your yard or garden and let you know if you have missed anything.
Once everything is checked off you will know that the job is done right.
Every lawn and garden project can benefit from using the Lawn and Garden Checklist. It's quick and easy to customize and use and it's completely free to download on this page. Download one for your yard project today.
Download: Lawn and Garden Checklist
X
Your free template will download in
5 seconds
.
Check out this offer while you wait!