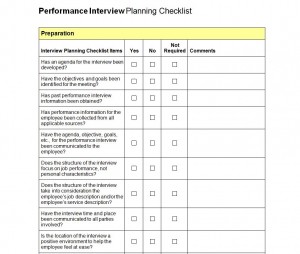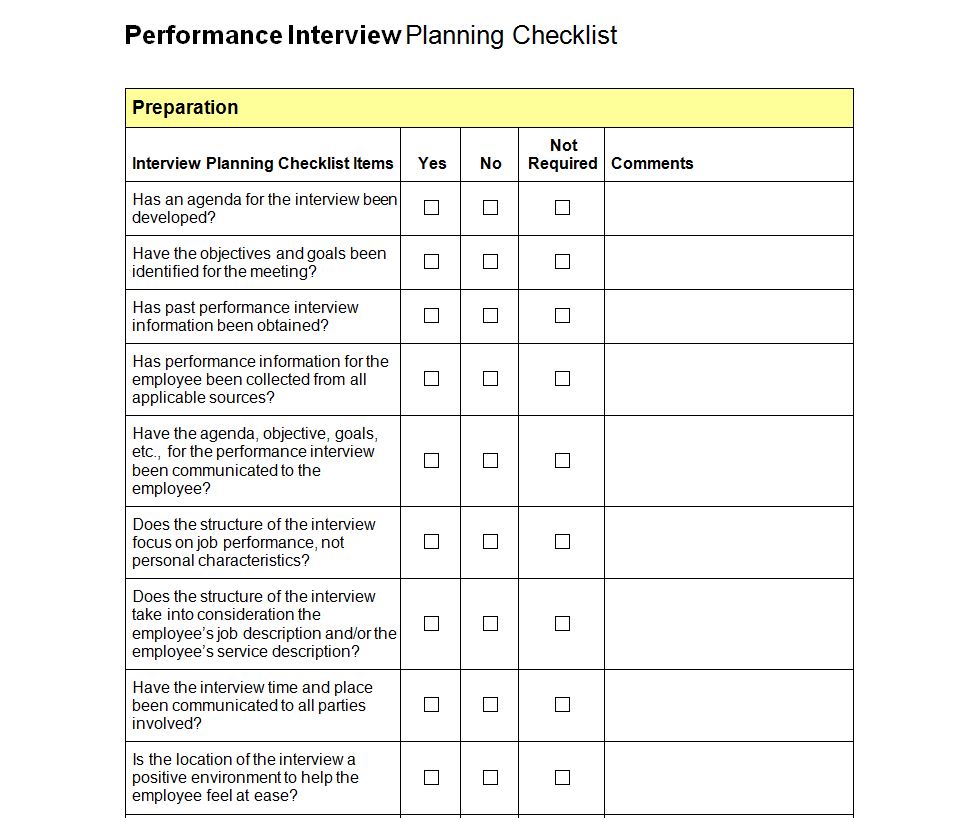 Every company needs to review their employees' performance. These performance reviews are best conducted in an interview. These interviews should be planned in advance so that everything is covered and handled correctly. It is useful to have a Performance Interview Planning Checklist so that this task is properly taken care of. This template is easy to use and downloadable right here for free. It is completely customizable so it can work for any business.
How to Use the Performance Interview Planning Checklist
Review the template. You should remove any questions that do not apply to your individual needs. Unnecessary questions can bog down the interview and make it more difficult for both parties.
Now you can add any questions that you think are relevant to your individual business. This will help to ensure that the interview covers everything that is necessary.
Once the Performance Interview Planning Checklist is finished you can go over the upcoming interview and be sure that you are prepared for it. Simply check off every question to make sure that you have completed the checklist.
Conduct the performance interview. Have a scheduled time and hold the interview in a private location. This should make it more comfortable for both parties.
Tips for Using the Performance Interview Planning Checklist
Make sure that all of the questions are relevant and that all relevant questions are on the checklist. This is to ensure that everything goes as quickly and smoothly as possible.
Complete every question on the checklist when planning the interview. Make sure to check them off as you go so you don't accidentally miss something.
Be sure to give yourself enough time to complete the checklist. It is important that the interview be conducted in a timely manner.
Save the Performance Interview Planning Checklist so that you can use it over and over. It will be useful for every performance interview that you need to conduct.
Every business could benefit from using the Performance Interview Planning Checklist. It's fast and easy to use, completely customizable, and totally free to download right here. Download yours today.
Download: Performance Interview Planning Checklist