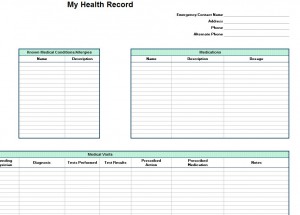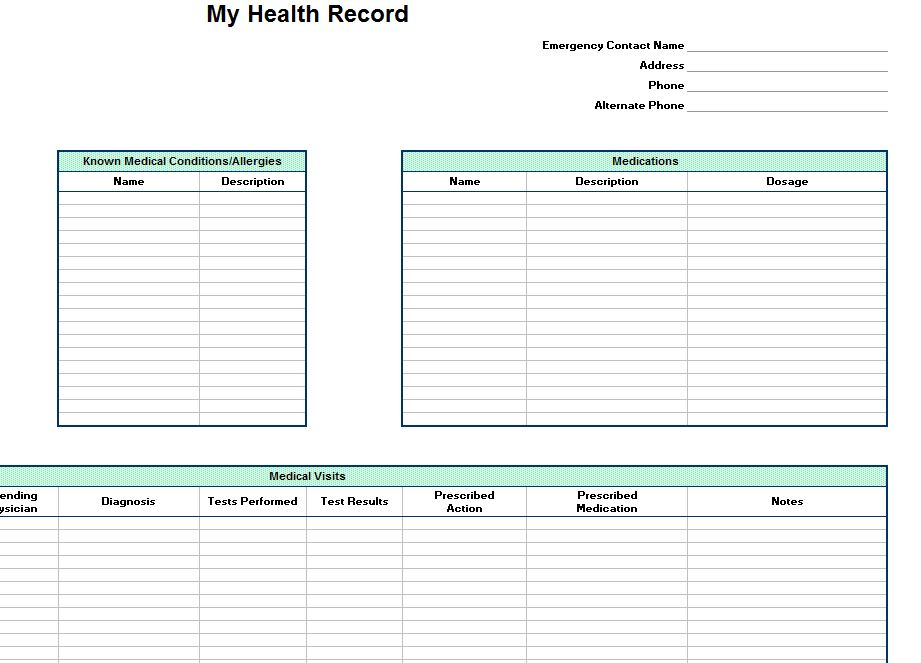 To properly make sure that you're getting the most out of your personal health, you should download this personal health record template. This template will let you keep track of colds, medications, immunizations, allergies and more. Best of all, it is completely customizable and downloadable straight from the site. The template is also free, so you don't have to worry about paying for the sheet in order to get the most out of it. This template is easy to use and will help you inform your doctor with your latest records. It takes a quality personal health record template to give you the tools necessary.
Using the Personal Health Record Template
As a rule of thumb, you should visit your doctor no less than one time per year. With this great template, you are able to inform your doctor of everything going on with you so that you can get the best possible care. Most people have primary care physicians, and this template lets you inform your primary care physician of what is going on with you. Otherwise, you are providing guesswork when it is time to fill out the chart. You can download this template in a few seconds from this site and begin keeping proper records of your medical health.
By keeping track of your medical history, you're also able to notice trends. For instance, if you notice to begin ailing, you can always consult your medical record to see if anything is changed since the last time you visited the doctor. Like it was accurate information and even presenting it to the doctor, you're being active participant in your own healthcare. This is incredibly important, because you pay a lot of money every year for your health care premiums. You deserve to be involved in the process, and this personal health record template is a great start.
Give your doctor the best chance possible of caring for you by using this personal health record template. You can think of this personal health record template as a sound and solid investment into your overall health and will be glad you took that step. Visit the site, download and customize the sheet and make tweaks to it whenever you need to. Whenever you have a doctors appointment, you can print the sheet out and take it to your doctor in order to get the best possible care and have any questions answer that you need. This she can become your healthcare Bible, so begin by taking the time to download it.
Download: Personal Health Record Template
X
Your free template will download in
5 seconds
.
Check out this offer while you wait!