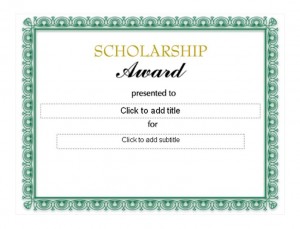 There are numerous people in the United States who offer independent scholarship awards to promising students who have shown academic excellence. With more and more entrepreneurs giving back to their communities, or lending a helping hand to someone they have mentored, the Scholarship Award Template is a beautiful way to send the message of support to a young student. What's more, as the next college year is only a couple months away, give the gift of support to a student who is about to take their academic progress to the next level of achievement.
Using the Scholarship Award Template
The Scholarship Award Template is useful because it does not have to rely on the method of snail mail to be delivered to the recipient. Instead, users can simply create, design, save, and send their template to a worthy student, or print and send it, according to their preference.
The Scholarship Award Template allows for supporters to send any given amount of money to the recipient, but the template itself allows the student to frame and celebrate their generous gift. This easy to use template is free to download from this page, and, within seconds, can be opened for custom design and, within minutes, ready to be sent. The Scholarship Award Template opens up in Microsoft Word with a white specially sized page designed with green reefs and appropriate headings and guidelines in gold and black.
Simply add in the recipient's name, followed by the reason why he or she is being gifted with a scholarship (high school excellence, a strong mentor, community advocate, college freshman, etc).
What's really cool is that the Scholarship Award Template page can be changed to another layout by selecting 'new slide' from the top toolbar.
Change the font color or font style according to your design preferences
Save the template with an easy to remember title, to your desktop or in your documents.
Open your personal email and select the saved document to attach to email. Click send, and your recipient will have immediately received the template gift.
Or, if using regular mail, open the Scholarship Award Template and select 'print' from the start button on the toolbar. Select how many copies you'd like to make, and click print. Place in a large envelope so as not to wrinkle the document, and send.
Now your template is complete. Create as many as desired.
Download: Scholarship Award Template
X
Your free template will download in
5 seconds
.
Check out this offer while you wait!