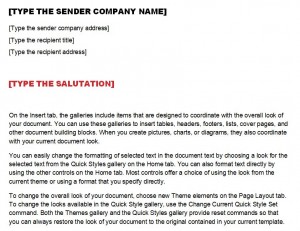 Standard Business letter templates are used in everyday situations when there is a message or concern needed to be relayed to another professional. For example, they can be used to make announcement throughout the office, mailing documents to another business, and simply for more privacy.
This standard business letter template allows for you to customize all of your business letters and give it the finished look most business letters seem to lack. It is a quick and easy way for any of your communication needs within your business; in a professional, efficient, and customized form.
How to Use the Standard Business Letter Template
First, fill in your personal company info. This includes your business name and your mailing address. After this you will need to enter the recipient's title as well as their address. This template will also allow you to add your business logo, this will make the letter more presentable as well as more professional.
Second, fill in your own personal salutation. This adds a hint of personality to the letter.
Third, you will need to add your letter to the template. This can be an announcement or a letter sent to another business about current plans. This template can be used for endless amounts of business letter needs.
Last, you will need to add your closing and a simple signature. This is simple, but is very important.
Tips for Using the Standard Business Letter Template
Using this standard business letter template will have more of an impression on those you send it to than you think. This is why a closing such as "Sincerely" or even "Thank You" can go a long way.
Always make sure that the body of your letter is just as professional as the template you have chosen. Readers will feel the disconnect.
The most important tip of all is to proofread. Always make sure to proofread your letter at least once or twice before sending it out. (It doesn't hurt to have someone else proofread it as well).
Download: Standard Business Letter Template
X
Your free template will download in
5 seconds
.
Check out this offer while you wait!