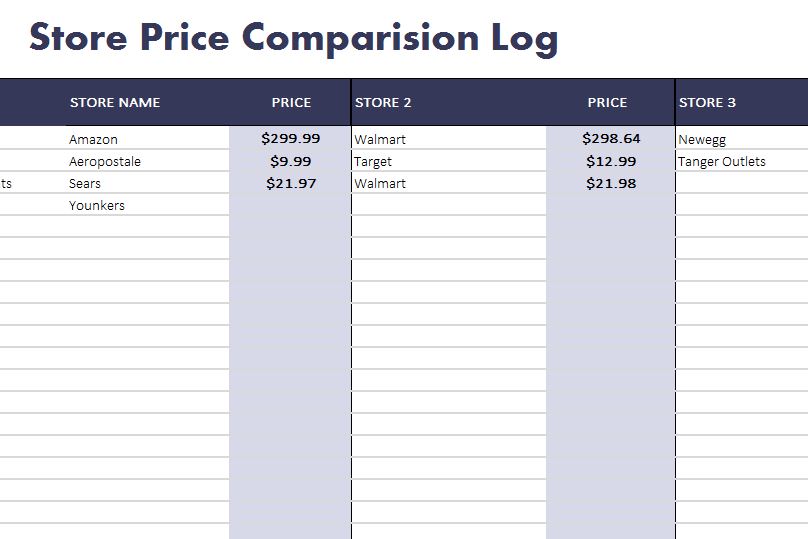 Let's face it, most stores nowadays offer the same items. The question then becomes, "who has the better price?" The free Store Price Comparison Log is your new tool to answer that question by giving you the structured space to list items and stores to do a side-by-side comparison of certain items and the make the right decision for you. Download this template is as simple as clicking the link provided for you at the bottom of this page and learning how to use it is even easier with the list of instructions given below.
Store Price Comparison Log Description
The free Store Price Comparison Log was designed to help you save time and money for the holidays by creating a sheet that lets you compare the prices of different stores on a single page. You will be able to create a list of stores you love to buy from and enter the locations, prices, sales, and more on one page of the template. Using this document, you can create the ultimate gift shopping list for everyone you know and love and find the store that has all the items you need for the lowest prices.
Using the Store Price Comparison Log
Start in the section of the template marked "Lists" in the group of tabs below. There is only one table in this tab. All you need to do here is add the stores you like to buy from or delete the examples and create a fresh new list.
Next, head to the "Email" tab. Later on in the tutorial, you will be able to send out custom email messages to certain people you want to inform about special offers they might be interested in. This is the message that will go out.
The last section of the template is for entering the main information. Ignore the table to the far left of this page at first. You will begin in column E. Go through and, using the drop-down menus, enter the required information listed above.
Have a list of people in mind when creating this list and consider general objects they might like when looking for deals as well.
As you continue to enter items into the main table, you will see the table to the left of the page begin to calculate the totals for individual stores.
Using the Store Price Comparison Log you can see which stores have most, if not all, of the items you need and which stores have the best prices for them.
Additionally, if you want to inform someone of a particular deal, you can add their name on the same line as the item, under column N, and hit the "send email" button to deliver the customized message you made earlier.
Download: Store Price Comparison Log
X
Your free template will download in
5 seconds
.
Check out this offer while you wait!