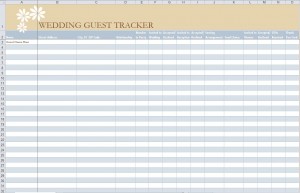 So the big day is approaching and you want to make sure all of your ducks are in a row. You have the decorations and flowers in order, in addition to programs and musical selections. But what about the guest lists? When you want to make sure that you don't miss any names, and want to include everyone important to you, you would do well to download this wedding guest list template. Regardless of what type of computer you have, you should be able to open this wedding guest list template Excel in order to make the most of the software and create a list that helps you keep everything in order for your big day.
Why Download the Wedding Guest List Template?
So what makes the list so great? Well, for starters, it's free! Everybody knows that you must create a wedding list when you are ready to plan your big day. By having a wedding guest list spreadsheet at your disposal, you have all the tools needed to organize your day for invitations, banquet guest lists and any other circumstances that come in handy. This is especially important for people who are holding their reception in areas that require gated entry, because your guests names will need to be on the list in order for them to gain entry to the property.
Second, the template is completely and fully customizable in Microsoft Excel. This means that you are able to tweak the portions that make the most sense for your needs. For instance, you might want the title to read something different, and you may also want to separate your columns by bride's side, groom's side and other aspects. You might also want to add additional boxes for more contact information, which can come in handy for your needs.
So how do you get your hands on this wedding guest list template?
All you have to do is download the wedding guest list template directly from MyExcelTemplates.com. The wedding guest list spreadsheet is already set up based on the terms that you need, so that you are able to make the most of the situation and customize the list based upon your needs. For best results, download this wedding guest list template Excel spreadsheet before you send out your wedding invitations. This way, you are able to gather address and phone numbers for every single person that you want to invite, this way, the process of sending out the invitations will be concise and straight forward.
Download the Wedding Guest List Template from Microsoft Office: Wedding Guest List Template