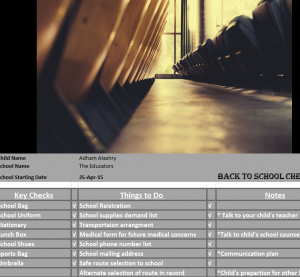 It's the start of the new calendar year and you want to be prepared for school this time around. Maybe last year wasn't as great as it could have been. There's never a better time to get your GPA to an acceptable level in the last semester of senior year than with better organizational skills. Let's be honest, time's running out and you don't want to take on another class or another semester next year. The Back to School Checklist template can help you organize your entire curriculum on a single page. Start your school year off on the right side of the bed this year so you can sleep in late next year.
How to use the Back to School Checklist
Download the free template by clicking the link at the bottom of the page.
Once you have the template up and running, you can start to customize it to fit your class schedule. The design is pretty simple and straight forward. Below the image are three separate columns in which to enter your information.
You'll start in the section at the top by entering the name of your school, your name, and the semester you're currently in. After that information, you're free to enter your checklist items.
Under the first column, you're going to enter important items that you'll be taking to school every day. You can include your iPod to listen to music on the way to school or anything else that will make the school day seem a bit shorter, just don't forget your textbooks.
In the next column, "Things to Do," you can enter specific tasks that need to be accomplished for one of your classes. For example, maybe you have a calculus test coming up and you need to study. You can write the topic and the date of your test so you can prepare for it later.
The last column, "Notes," is a helpful extension of the "Things to Do" column. You can list helpful tools, like a website or a chapter from your textbook, to help you with your tasks.
One you have your Back to School Checklist ready to go, you can print the sheet and keep it somewhere convenient. One of the best places is in the outside lining of your binder. This way, you can have your Back to School Checklist wherever you go.
Download: Back to School Checklist
X
Your free template will download in
5 seconds
.
Check out this offer while you wait!