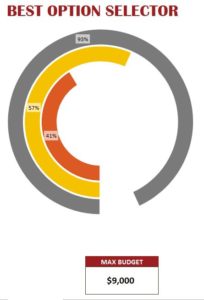 Ever wonder which path to choose when you have to make a major financial decision.
The free Best Option Selector is a template that allows you to enter all the known data based on your budget to come up with the bets answer.
One simple answer that comes to mind is trying to find the house mortgage that matched your budget.
In this instance, you would simply enter the prices for each potential home then fill in your own income information to arrive at the best possible answer.
You can get started using this free template by downloading the document file we have provided and following along with the instructions listed below.
How to Use the Best Option Selector
Start by clicking the link at the bottom of this page to download the free template file to your computer. Once you have the sheet, you can open the document and begin customizing the sheet for your own needs.
Below are just some of the great elements of this free template sheet that you can take advantage of:
1. A graphical representation of the best option out of 3!
2. Enter the max budget, the values for option 1, 2 & 3. You can also write your own titles instead of income 1, 2, & so on.
3. You can also add more values. Simply press enter in the last row above the total row under column 3, it'll create a new line.
Using this template, you can see how easy it is to compare the options you have based on your budget. You will choose between three different options and enter them in the table below. Start by listing your budget and then proceed to fill out the table at the bottom of the page.
The template will automatically provide you with totals for each so you can make the right choice each and every time.
Download: Best Option Selector
X
Your free template will download in
5 seconds
.
Check out this offer while you wait!