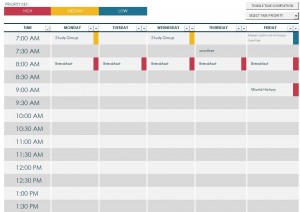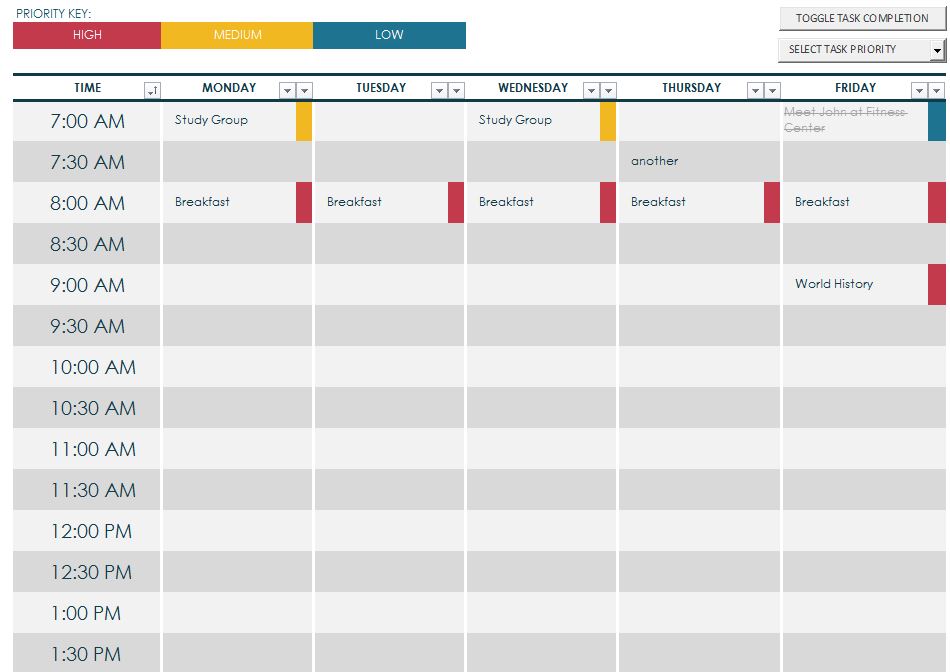 College can be extremely stressful. Freshmen are thrust into a highly scheduled setting where time management is important for success. Class time, work study hours, and meetings must be carefully logged in order to ensure nothing important is missed. Due dates for homework, term papers, and essays must be recorded to avoid the "oops!" moment when a deadline flies past.
Planning ahead is a crucial element in having an enjoyable and productive college experience. This is why the College Class Schedule Maker is so useful, because it provides a clear and visual calendar that maps out hours on a day to day basis.
How to Use the College Class Schedule Maker
First, download the free College Class Schedule Maker on this page and open it in Microsoft Excel.
Second, create a new calendar tab weekly and customize by recording class times, work study hours, and meetings.
Third, record the due dates of upcoming homework assignments, term papers and essays and mark each with the appropriate colored priority level.
Tips on Using the College Class Schedule Maker
For the first few weeks, when recording your class times with the College Class Schedule Maker be sure to specify what classroom it will be taking place in and who your professor is to ensure less confusion until you are accustomed to you schedule.
You can create time slots for meals and work outs. Many universities provide a gym membership to students free of cost, provide exercise classes at a reduced cost, and even have locker room facilities with amenities such as a sauna. Check out your school's webpage for more information.
The toggle button can be used to signal that an assignment is completed.
For large projects, set aside hourly time slots to do a small amount of work at a time to ensure quality research and time for revision.
Printing out the schedule before the week begins and posting it on a dorm wall is a perfect way to ensure that nothing important is overlooked.
For classes where you may be having trouble, check for a professor's office hours on their syllabus and schedule a meeting to discuss material you are confused about.
Download: College Class Schedule Maker
X
Your free template will download in
5 seconds
.
Check out this offer while you wait!