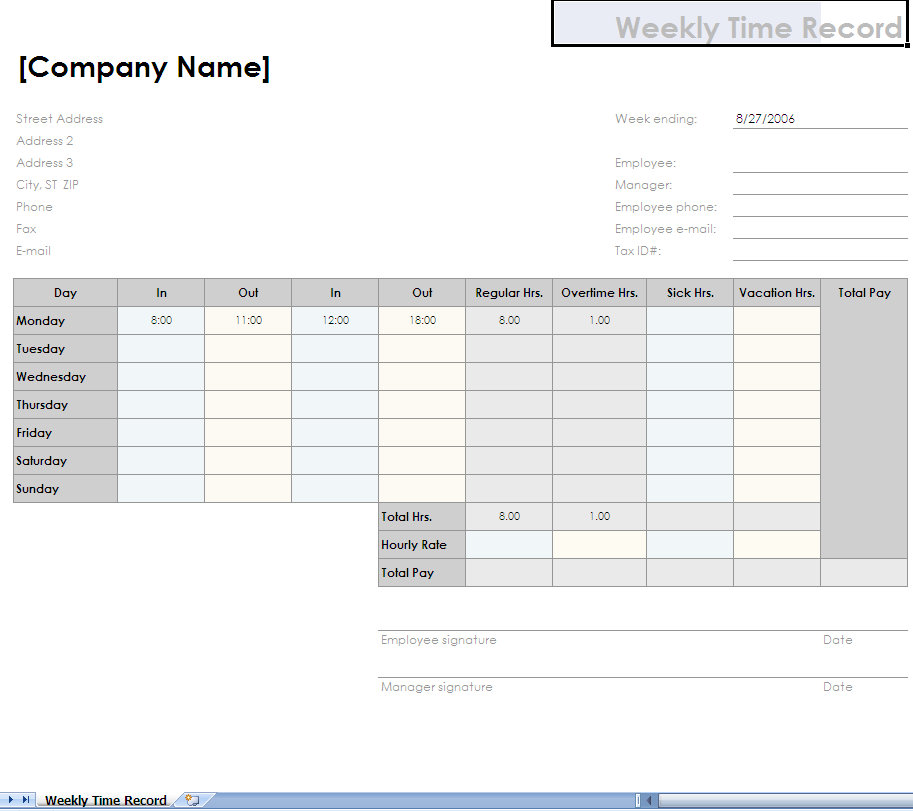 Easy time sheet entry using Excel Templates Using Educate, Reward and Consequence Model
A common complaint among small business owners is the failure of employees to complete their time sheets. The employees typically have a strong start but fail to enter time for the entire week. This can be frustrating for the business owner who has to use valuable time playing catch up with the employees while they try to complete these time sheets so the employee can be paid on time.
To increase the likelihood that your employees will fill out their time sheets on time, use this easy time sheet template. Download our weekly employee timesheet today!
Educate, Reward, and Consequence Model
Consequence – If you are having similar issues, you must first generate a plan to see why this problem is happening.  Do your employees realize the importance of completely filling out their time-sheet and consequences of incomplete time sheets?  Do you have consequences for incomplete time sheets? Establish consequences for delayed or incomplete time sheets.  Make sure these consequences are included in the employee handbook or intranet for reference.
Educate – Once you understand why the problem is happening, you can educate the employees on the proper time-sheet completion procedure.  Once they are educated and aware of the consequences, you can jumpstart reward part of this model. Survey your employees to see why they are turning in the time sheets late.  Use the surveys to develop a plan to educate them the importance of on time completion and the consequences of incomplete time sheets
Reward – Create a weekly game or contest around this time sheet completion learning process for all employees.  Draw names each week from a pool of people who correctly entered their timesheets correctly.  I've seen prizes range from a half day off to a gift certificate for dinner at a fancy local restaurant. Sounds childish, but this works. This technique re-trains the employees during this contest or trial period so that when this phase was over, they will continue to enter their time properly.
This weekly employee time sheet gives the employee a daily record of the time worked.  It also has an columns that accounts for holiday, sick, overtime, unpaid, and other miscellaneous times per pay period.  This weekly time sheet also displays the pay for the day and final pay for the week.  Again, this would be a great incentive for the employee to turn in because its a tangible record of what their check should reflect on payday!
Download: Weekly Employee Time Sheet
Click here to find more FREE timesheet excel templates on your computer.
X
Your free template will download in
5 seconds
.
Check out this offer while you wait!