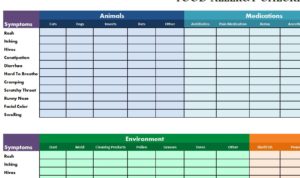 Helpful in more situations than you think, the Food Allergy Checklist can help you keep track of your allergies. This template covers more than just food as well, simply enter the symptoms you experience from the various causes listed in this template and enter a checkmark in the corresponding box. This template is the perfect tool for you or your child's needs during travel or any new environment. If you want to get started with this comprehensive allergy document today, just click the link below to download the free template file.
Food Allergy Checklist Guide
Start in the first column by entering the symptoms you experience by ingesting or being near the causes listed in the headers. You will find some of the most common examples listed in the first column but feel free to change these to whatever you need.
To change any aspect of the Food Allergy Checklist, just click the cell you want to change and enter something new.
The next step is to change the actual categories to fit your needs. The ones listed are also pretty common, but you can make them more specific if you need. You also have a section for subcategories that will help you narrow down your choices.
For example, under the "Drinks" category you have "Milk Products" as an option. You can quickly scan over to the symptoms section and list the effects for you or your loved one once milk products are consumed. If something happens, you or a temporary caretaker will immediately know the issue and administer treatment or call 911.
When you're ready to print your completed document, simply press "File" then "Print" at the top of the page.
Now you can have peace of mind knowing your allergies are in check by downloading the free Food Allergy Checklist today.
Download: Food Allergy Checklist
X
Your free template will download in
5 seconds
.
Check out this offer while you wait!