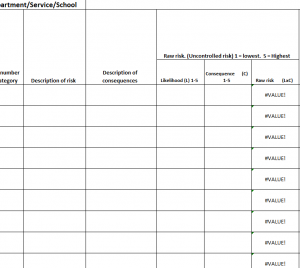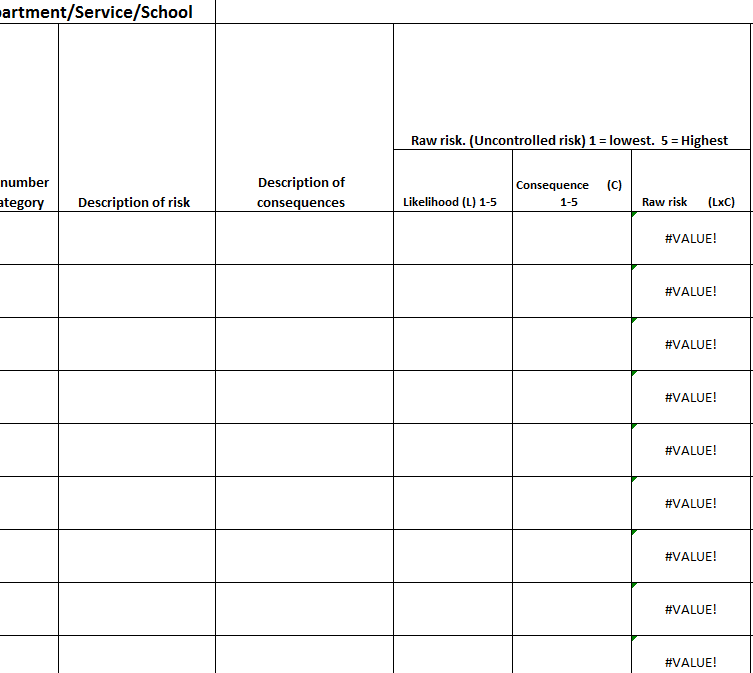 If you want to properly evaluate risk for your business or organization, then the Risk Management Sheet is a safe and free tool for you to utilize and achieve that goal. There is risk for every business venture, but you can make well-informed decisions by using this simple sheet to evaluate the important aspects of those risks and weigh them with the reward. Never be left in the dark about your next big idea: use the Risk Management template to take your organization to the next level!
How to Use the Risk Management Sheet
This entire template is designed to make your job as easy as possible. Start by assigning the risks you want to manage either a number or alphabetical code. You will be able to enter these in the "Risk and Category" column. Now go through and fill out the: description, consequences, likeliness, mitigation, sources of assurance, and your assurances likeliness in each of the main columns.
The template will take these factors into consideration and calculate the risk for you. It will display the risk value and your assurance in the "Raw Risk" and "Residual Risk" columns. They will be displayed in either red or green. If the risk is too great it will be highlighted in red and you should avoid taking it.
Finally you can assign a date to each risk to manage multiple at the same time. This template provides you with the means to create as many Risk Management pages as you'd like.
Any decision, large or small, can be broken down into their fundamental aspects and analyzed based on their value to you and your business. This template is a systematic way for you to view the pros and cons of each risk and decide if they would be beneficial for your business overall. Now you have the tools you need to succeed in the simplest format!
Reasons to Use the Risk Management Sheet
By analyzing your risks based on certain criteria you will be better able to judge situations that could potentially improve your business. Risk calculators are something that all major businesses use to assess major decisions. This template gives you that same resource but in much simpler format. There's no reason to buy expensive software when everything you need is one quick download away!
Download: Risk Management Sheet
X
Your free template will download in
5 seconds
.
Check out this offer while you wait!