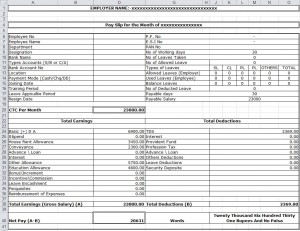 A salary slip plays an integral role in the payroll process, for both employers and employees alike. For businesses, the document details a individual's total monthly cost, from leave days and bonuses, to taxes and reimbursements. And for employees, a salary slip provides a kind of payment verification, offering valid proof of salary for future employment.
But while salary slips provide an invaluable tool for businesses trying to keep close watch on employee expenses, they can sometimes be a bit scattered and disorganized. Without a proper vehicle or document to house financial information, as well as a lack of understanding for payroll-specific terms, most employee expense assessments can fall horribly flat.
But with the Salary Slip Template from MyExcelTemplates.com, business owners (and employees) can effectively:
House specific salary information per individual employee, and from a single, easy-to-use Excel spreadsheet
Analyze total earnings per employee, and total deductions.
Track leaves, payable days, as well as various other payroll variables.
How to Use the Salary Slip Template
For payroll managers and business owners, utilizing the Pay Slip Template from MyExcelTemplates.com is an incredibly simple, straightforward process.
Fill in individual employee data. This will include department, bank account information, training periods and location – if applicable.
Track an employee's completed work days per month, as well as any medical, sick or vacation leave the individual may have allotted.
Assess total earnings for an employee, minus total deductions. This will produce a net earnings figure.
Verify the document for future liability and reference issues. The Salary Slip Template provides a designated space for signiature, stamp and company seal verification.
Clearing Up Any Confusing Salary Slip Template Terminology
As with most payroll sheets, the Salary Slip Template is outlined with a few specific – but sometimes confusing – financial terms.
CTC –  An employee's total "cost to company", or the expense to employ an individual based off of their earnings and profit.
Total Earnings versus Total Deductions – The income an employee amasses over a monthly period, versus any tax, interest or loan deductions that might reduce the initial figure.
Net Pay – This includes an individual employee's projected earnings, minus any specific deductions or expenses that may reduce that figure.
Download: Salary Slip Template
X
Your free template will download in
5 seconds
.
Check out this offer while you wait!