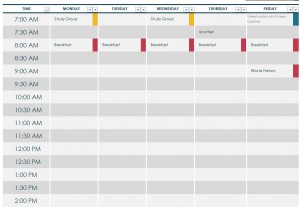 Using a school schedule template is one of the easiest ways to keep track of everyone's individual schedules. In fact, a school schedule template may be the only way to keep track of all of the different places that everyone must be at a given time. Sometimes it is extremely difficult to figure out where everyone needs to be, especially if you have several different children that are involved in multiple after school activities. The problem can become compounded if you have children that are attending different campuses. In such a situation, using a school schedule template is the ideal way to keep up with everyone's activities.
Finding the Right School Schedule Template
Finding the right template is much easier than you may think. You can simply use the template that is already located on this page, completely free of charge. The template is extremely easy to use and allows you to start using it right away. It can be downloaded in just a matter of minutes without having to install any additional software. Furthermore, the template is totally customizable, allowing you to make changes in the template as needed in order to reflect the needs of each individual member of your family. This is a tremendous advantage when you are dealing with several different after school activities or you have children who are going to different schools because you can customize the template to fit those needs.
Tips for Using the School Schedule Template
Using the template is extremely easy. Of course, you must first download it and then save it to your computer, or you have the option of printing out the number of copies that you need. You can also print out copies and save the temple onto your computer so that you can come back and print out additional copies in the future. If you want to customize it, you simply customize the fields before you save it or print it. Otherwise, you can use it as it is. Keep an updated version on your computer or print it out and hang it on the wall for everyone to see.
In closing, finding the right school scheduled template is essential in order for you to maximize the level of convenience and reduce the amount of time that you spend trying to keep up with where everyone is supposed to be. As children get older and become involved in additional activities, the use of such a temple will no doubt become of much greater importance. Finding one that is customizable and free to download only simplifies the process.
Download: School Schedule Template
X
Your free template will download in
5 seconds
.
Check out this offer while you wait!