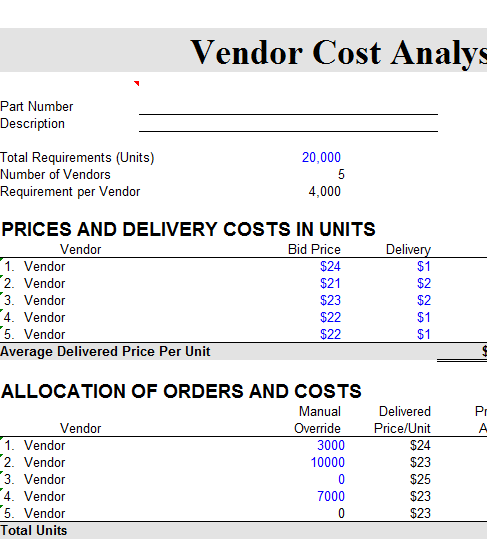 The Vendor Cost Analysis Chart provides you with all the necessary tools to properly analyze the cost of your vendors. In this easy-to-use assessment of existing and potential suppliers, you will estimate their finances, payments, and delivery terms. This template will also assess the ability of your business to create a solution if you acquire a new vendor service. The analysis chart cuts out all the mindless calculations and gives you valuable data that you can quickly use to implement new strategies. Use the Cost Analysis Chart to evaluate existing and potential vendors today!
How to Use the Vendor Cost Analysis Chart
To get started you'll first need to download the free file at the bottom of the page by clicking on the link provided. At the top of the screen you can enter organizational information such as the item number or description of the vendor's product or service.
Next you can list your requirements of the vendors and their items, these are highlighted in blue. Simply enter the number of units, the number of vendors, and requirement per vendor.
The "Prices and Delivery Costs in Units" tab is where you will enter the details for your vendors and their prices for your store. You can also list the delivery charges and terms of each vendor in the "Delivery" column. The template will calculate the total of your vendor costs based on the unit price and their delivery costs. The template can also average the cost of up to 5 vendors so you have a better understanding of their value.
The last major table is where you will enter your allocated orders and their costs. This way, you can compare the value of multiple vendors with one another from their prices and the average cost of your other vendors.
Finally, the template will provide you with total costs of orders, low bidder total, and multiple bid premium and percentages. With this information you can easily compare and evaluate the value of new and existing vendors and make informed decisions for the betterment of your business.
Why Should You Use the Vendor Cost Analysis Chart?
By using the Analysis Chart you will gain a firm understanding of how to direct your sales force and recognize trends in what vendors will be valuable for your target demographic. This information was meant to increase your overall sales and give you the necessary tools to succeed in whatever business venture you're involved in. Make great vendor-based decisions for your organization with this simple template.
Download: Vendor Cost Analysis Chart
X
Your free template will download in
5 seconds
.
Check out this offer while you wait!