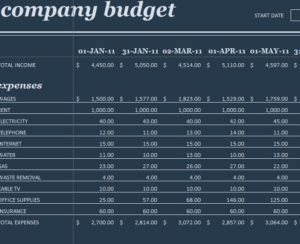 Tracking the first 18 months of your business's budget is the best way to start off your company with financial stability. These are the crucial moments that will determine if your business makes or breaks it. The best way to be prepared for the worst is by using the free 18 Period Budget template. You will be able to enter both your income and expenses for your business over the next 18 months to determine if you can viably operate over this period. If not, then you may need to make some decisions and choose where to cut costs in order to generate profit. To learn how to download and use this free template, just follow the guide below.
Using the 18 Period Budget
The first step is to download the free file by clicking the link at the bottom of this page. Next, go ahead and enter the following pieces of information where they appear in the template.
Enter start date.
Enter the # of days you would like to have in a period / time frame.
Enter income from various sources.
Enter your expenses.
Your total income, total expenses, and net income will be calculated.
The free 18 Period Budget offers you the freedom and creativity to explore your options without risk or cost. You can quickly change any piece of information you've entered into the document and reuse the sheet for next year.
All you need to do is change the various example incomes and expenses that are displayed by clicking the cell you wish to change and entering a new amount. You have the power to set your business on the right course this year. To get started with the free 18 Period Budget template, just click the link below.
Download: 18 Period Budget
X
Your free template will download in
5 seconds
.
Check out this offer while you wait!