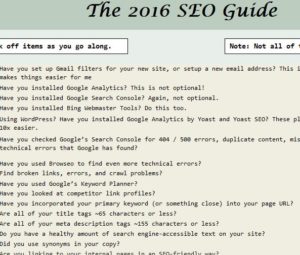 The ultimate guide to proper SEO, the 2016 SEO Guide is the perfect way to optimize your website for Google's crawlers to pick you up for keyword searches, generating traffic to your website. The document comes as a free checklist that guides you through the necessary steps to optimizing your website for search. Both the layout and structure of your website is covered in this comprehensive guide. All you have to do is check the items off as you go. If you're interested in learning more about this free document and want to download a copy for yourself, just continue reading the free guide below.
How to Use the 2016 SEO Guide
If you're ready to get started on better optimization for you website, then click the link at the bottom of this page to download the free template file directly to your computer.
The document itself takes a simplistic approach to helping get started with this venture. You will be given a convenient list of items related to increasing SEO for your website. All you have to do is go down the list and check off the items as you go, making sure that each item is good to go.
Using the most basic example, let's say that you have made you way down the list and come across "Overall Word Count" in the "On-Page Optimization" section of the SEO Guide. Google, and other popular search engines, likes each page to contain a minimum amount of words depending on the subject matter and nature of the website. In this instance, you would just make sure that your website meets the minimum requirement.
Just as we did with the example above, you will go through this list and make sure that each item has been taken care of, remember that not all items are categories will apply to your site, in which case, just move on to the next item.
You can make SEO much easier with this free template at your side.
Download: The 2016 SEO Guide
X
Your free template will download in
5 seconds
.
Check out this offer while you wait!