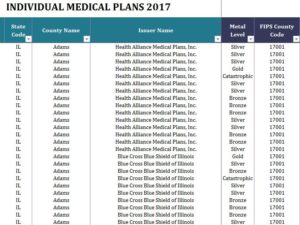 If you need a fast and free way to learn about the healthcare plans of 2017, then you should check out the 2017 State Health Insurance Plans Florida through Illinois. This set of templates will give you everything you need to download available plans in your state and use filters to find one that suits your needs.
Whether you want a plan for your family or you need to find one to fit around a tight budget, these lists will help you find the perfect match. Just follow the directions below and click the link with your state to download the medical insurance template.
How to Use the 2017 State Health Insurance Plans Florida through Illinois
This website contains insurance plans for Florida, Georgia, Hawaii, Iowa, and Illinois. The list of plans includes both Federally-facilitated Marketplaces and State Partnership Marketplaces.
You can also select plans for either individual markets or small group (SHOP) markets.
2017 State Health Insurance Plans Florida through Illinois templates are separated by 3 blue columns to select state, county, and insurance provider. The purple columns show you all the data for their 2017 plans.
You'll start by listing the county and provider you want using the drop-down filters. Click on the down arrows and deselect the options you don't need. They will vanish from your screen so you can see only the options you want.
The free healthcare templates are perfect for people that need to sift through large amounts of information to find the plan that works best. Everything from the monthly payments to a rough estimate of your plan based on age is a click away. Get start today by downloading the template for your state below.
X
Your free template will download in
5 seconds
.
Check out this offer while you wait!