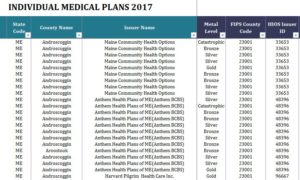 2017 State Health Insurance Plans Indiana – Maine
Do you have growing concerns about healthcare coverage for 2017? Worry no more. The free 2017 State Health Insurance Plans Indiana through Maine are a set of templates designed to help you filter through your medical plans to find the right one. You will be able to choose your state of residence from this list and find a plan using the information given. You can filter through prices, premiums, and plans to find something that will work for you. Just follow the steps below to get started.
Using the 2017 State Health Insurance Plans Indiana through Maine Templates
The first thing you'll need to do is download one of the links below. This page covers health insurance plans for Indiana through Maine. You'll click the link of your state below to download the template.
The templates contain Excel sheet insurance plans for Indiana, Kansas, Kentucky, Louisiana, and Maine. You can find both Federally-facilitated Marketplaces and State Partnership Marketplaces.
Whether you're an individual or a group, there will be plans for you to select in your new template too. This works for family plans, businesses, or singular individuals as well.
2017 State Health Insurance Plans for Indiana through Maine are separated by 2 different sections. The first allows you to select the state, county, and insurance provider. The purple columns show you information about the provider's 2017 plans.
You'll start by using the drop-down filters to select your county and provider. Click the arrows and select the options you want to see. Everything else will be removed from your screen.
The free 2017 State Health Insurance Plans Indiana through Maine templates can help you find the coverage that works best for your budget and family needs.
X
Your free template will download in
5 seconds
.
Check out this offer while you wait!