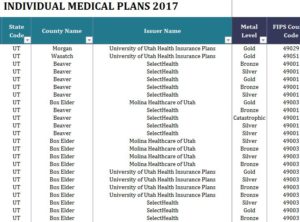 Are you prepared for 2017? The free 2017 State Health Insurance South Carolina – Utah templates are here to help you get started. Finding a healthcare plan that encompasses everything you need is the hardest part of getting coverage. There are so many healthcare providers and plans that it can make your head spin. This template helps you narrow down the list by using filters to help you sort out what's important. Best of all, this template is user-friendly and 100% free. You can get started today by downloading your state's healthcare plan template and following the instructions provided below. So what are you waiting for? Medical coverage and peace of mind are just a click away.
You can download the free template by scrolling down and clicking the link next to your state of residency. It really is that simple.
Using the 2017 State Health Insurance Plans Nevada – Pennsylvania
Now that you have your template downloaded to your computer, you can start to edit the information provided using the filters in the first row. At the top of the page, you have a list of topics in the first row. You can click the arrows in these cells to select or deselect options that you like or dislike within the template.
Let's use an example so you know how to use the template. Start by selecting your county and issuer name in the first few columns using the method described above. All other options should vanish from view until you select them again.
You can then do the same for different plan options. One item you might want to change immediately is the "Plan Type" in column "J." Let's say that you only want to see EPO plans. You would deselect the "(select all)" option from that drop-down menu and only EPO plans will be visible.
In the same way, you will go through the remaining columns of the template and continue to narrow down your list until you find a plan that suits your needs.
Download:
X
Your free template will download in
5 seconds
.
Check out this offer while you wait!