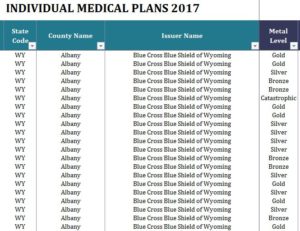 The free 2017 State Health Insurance Virginia – Wyoming is the perfect template to help you find the best healthcare plan based on your state of residency. The free set of documents lists plans from every major provider and organizes them in a way for you to quickly and easily filter options to find the perfect choice for you. It's simple; you download the template for your state and follow the directions below.
This will consist of selecting and deselecting options until you find what works based on your income, age, and what you can afford to pay on a monthly basis. You can also factor in other elements such as family plans and plans for your small business. This template has all the tools you need to cut down hours of research and find the right coverage.
To get started today, just follow the link below.
How to Use the 2017 State Health Insurance Virginia – Wyoming
At the bottom of this page, you'll find a list of options to choose from. Click the link next to your state to download the right template file.
You will see a series of rows and columns filled to the brim with information about different healthcare plans offered by providers. You might be a little confused but the goal of this template is simple.
Using the filters in the first row, you will choose the aspects of a plan that work bets for you to find a plan that matches based on price, coverage, and other details.
As you make your way down the first row, remember to use the filter to select the items you want to keep. To do this, just click the down arrow on a category tab and select the options you want with the checkbox to the left of that item (all other options will disappear).
You can see how using the free 2017 State Health Insurance Virginia – Wyoming to create find the right plan for your needs and save yourself hours of research at the same time.
Download:
X
Your free template will download in
5 seconds
.
Check out this offer while you wait!