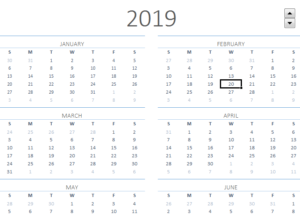 Do you need a simple way to keep track of the calendar year? Many calendar templates are designed with flashy gimmicks that end up distracting users and ultimately waste space on your computer. The 2019 One Page Calendar is plain, simple, and efficient. You get a clear overview of your entire year on one convenient page. One of the best features of this template is that you can use it again and again for every year! The template will automatically format the days of the year that you've set. You never have to look for another calendar again; this template simply has it all!
2019 One Page Calendar Guide
To get started, download the template by clicking on the link at the bottom of this page.
The calendar template allows you to choose any year you want. You don't have to worry about adjusting the days either, the template will automatically reformat every month for you! Use the navigational arrows at the top of the page to choose your year!
All twelve months are listed on one page for your convenience. All that's left for you to do is print the document! Click on the "File" tab in the top left corner of your page and select "print" from the drop-down menu that will appear.
Once you have your physical copy of the calendar, you can display the sheet anywhere that will be convenient for you. Some great places would be on your refrigerator, by your bed, on your nightstand; this template will look great anywhere you decide to place it.
How the 2019 One Page Calendar Helps You
The calendar template is simple and gets straight to the point. You want to keep track of the month and maybe even set reminders for important dates. This template takes out all of the nonsense, allowing you to accomplish all your goals as soon as possible. Stop paying for expensive scheduling apps and software and don't waste your time on templates with unnecessary add-ons. You only need one template to organize your month, download it for free today!
Download: MET-2019-One-Page-Calendar
X
Your free template will download in
5 seconds
.
Check out this offer while you wait!