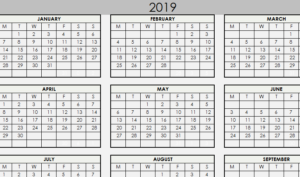 The 2019 Printable Calendar makes monthly organization simple. Calendars are supposed to make your life easier, so why waste time on templates that are over-complicated? This calendar does just what it's supposed to and takes the hassle out of your already busy day. This template is even formatted for you to easily print the calendar and set it up anywhere in your home. Change everything from the color to calendar year; the Printable Calendar simply has it all! Download this free calendar today and start making the best of your year!
2019 Printable Calendar Instructions
Downloading the Printable Calendar is a quick and easy process. Simply click on the link given at the bottom the page to start downloading the template to your computer. The pop-up menu will allow you to choose where to save the document as well. Make sure it's somewhere easily recognizable, such as your desktop.
The template is designed to contain every month of the year on one page. If you want to mark a certain day as special before printing, you can easily click inside the box containing the day of an event or appointment and change the color using the letter icon at the top of your screen. This way, you will remember that you have an important engagement coming up.
When you are ready to print the document you simply press the "File" tab in the upper left-hand corner of your screen and choose "Print". Doing this will display a drop-down menu where you can select the various options for printing.
You are then free to place the document wherever you want. With its simple and elegant design, it will work in any room of your home.
You can have the perfect calendar ready with just one click of your mouse, download this free template and save yourself time and money!
Best Features of the 2019 Printable Calendar
The entire year fits on one page
Simple design makes customization simple
Re-usable for any year
Download: MET-2019-Printable-Calendar
X
Your free template will download in
5 seconds
.
Check out this offer while you wait!