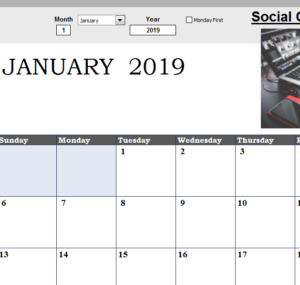 Organize your busy schedule with the 2019 Social Calendar Sheet. This helpful template will allow you to create the perfect schedule, maximizing your time so you get the most out of life! Now you can accomplish all your goals and plan this year with ease. The document is set up in the form of a simple calendar. All you need to do is enter your plans into the individual boxes and print the Calendar Sheet for your convenience! There is even a section to leave any additional notes. You can mark significant dates, make note of a doctor's appointment, anything you want can be included in this amazing calendar template!
2019 Social Calendar Sheet User Manual
You can download the document by clicking on the link provided at the bottom of the page. This template completely free to download as well!
Once you have successfully saved the Calendar Sheet to your computer, you can open the template and choose the current date at the top of your page.
There is also a nice option to list Monday or Sunday first, simply by checking or unchecking the titled box next to the date selection table.
With all the above items taken care of, you will be ready to start entering events into your schedule. Simply choose a date you want to add something, click inside that specific box, and start typing. When you are finished writing your item, click enter to finalize your added piece.
After you finish entering items into the calendar, press "File" then "Print" to print the monthly sheet for your personal use. When you're ready to move on to the next month, scroll to the top of the page and select it, just as you did the first time.
Use this document for years to come; download this free template today!
Reasons to Use the2019 Social Calendar Sheet
You can use this calendar for any year
Everything you need is on one tab
Printable
Download:  MET-2019-Social-Calendar-Sheet
X
Your free template will download in
5 seconds
.
Check out this offer while you wait!