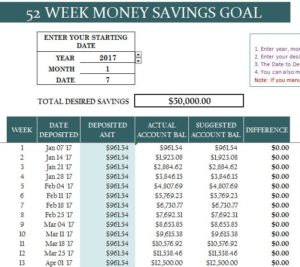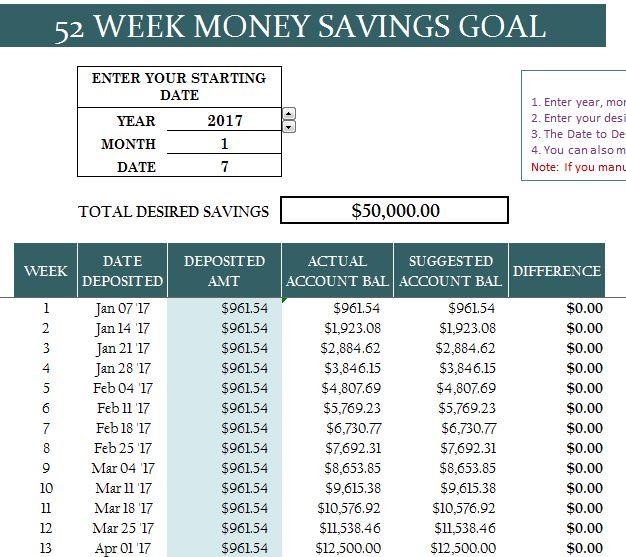 If you need to save money and are finding it hard to actually meet those little goals that will get you there, then the 52 Week Money Savings Goal template will get you there. This free document was designed to help people list their financial wants and needs so they can take the little steps saving and meeting those goals. We all have financial goals and aspirations, we just need the organizational skills to help use get there.
By downloading this free template you will have access to all the best tools for tracking your finances and maintaining your goals. Give it a try today!
Using the 52 Week Money Savings Goal Template
You can download the free template by clicking the link located at the bottom of this page.
At the top of the page, there is a space to select your current date. Just use the drop-down tools to make your selections.
Next, select the amount you want to save over this 52-week process. The template will then display all your information in the table below.
In the first column of the template, you'll find the current week, followed by the date you need to deposit some money into your savings account.
In column D, the amount you need to deposit is calculated for you. You can also enter your entire account balance for that period for your own records.
The template also calculates an amount that you should keep in your account to maintain this savings goal.
If there is a difference between your actual balance and the suggested balance, that amount will be displayed in the last column of the template.
The free 52 Week Money Savings Goal just makes it easier to keep track of your saving goals, while you work your way towards them at a comfortable pace.
Download: 52 Week Money Savings Goal
X
Your free template will download in
5 seconds
.
Check out this offer while you wait!