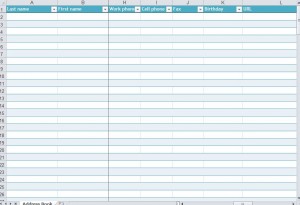 The Address List Template is an excellent way to organize your contacts for your business or home use.
The address list template is completely free and can be downloaded to your own desktop very easily. You can save your template in excel and customize it to your own personal requirements.
There are a multitude of advantages to using the Address List Template:
You can customize the fields for the address list template in the way you want. You might want to add separate columns for first name and last name. A column for the street address, a column for the city, the state and zip. You can add columns for business phone, home phone, cell phone and fax. Also, columns for email addresses and even websites.
The spreadsheet can be used in conjunction with Microsoft word to create a mail merge document. This will give you the tools you need to be able to print address labels for envelopes, or form letters. This list could also be used to print address labels for marketing postcards, invitations, newsletters, seasonal promotions and many other uses.
For businesses needing addresses sorted by town, state or zip code this can be easily done in excel with the sort option. If you have a marketing business you will be able to sort your contacts by the area you want to visit. You could even customize your excel sheet to include visit dates so that you can keep a record of the last time you visited a client.
Maybe you need to create an email distribution list. With your column of email addresses, this information will be available to you in a list that you can copy and paste.
Perhaps you need a seasonal list of friends or clients to send Christmas cards or other seasonal cards. You can sort your list and add a column to indicate with a yes or no whom you will need to send a card to.
For some individuals or businesses you will be sending birthday cards to your clients or friends. You can customize your address list template to include a column for birthday dates. You could sort the spreadsheet in many different ways including a schedule of birthdays sorted by month.
As you can see, there are many different and very useful ways the address list template can be customized and used. This will be an invaluable tool in your home or business office.
Download the Address List Template from Microsoft Office: Address List Template
X
Your free template will download in
5 seconds
.
Check out this offer while you wait!