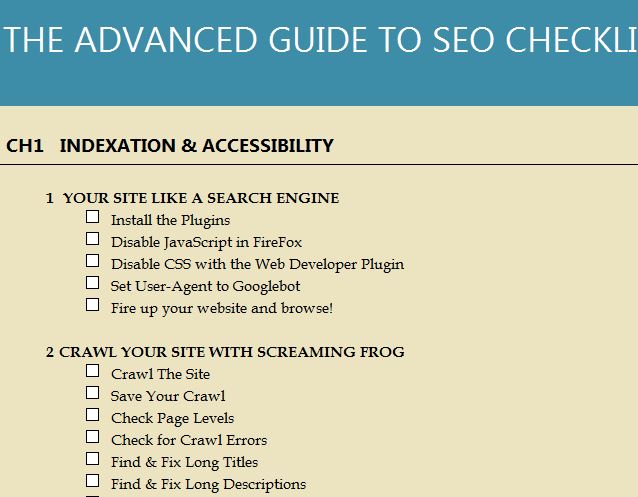 The Advanced Guide to SEO Checklist is the perfect tool for anyone looking to improve their online content and take it to the next level with search optimized tips and tricks from some of the best minds in the field. The simple checklist gives you everything you need to create your own SEO content in the form of a simple checklist. You will simply go through the items that have been given to you, in order to ensure that your content has been completely effectively upgraded to SEP perfection. This template just gives you a neat list of items to go through, making it fast, easy, and effective to get started.
The Advanced Guide to SEO Checklist Description
As stated above, The Advanced Guide to SEO Checklist is just that, a checklist. The items that are given to you were created by experts and are broken down into different sections. You will simply find the sections that apply to your work and implement as you see fit, nothing more.
When you finish customizing or adding the items you need for your work to the document, you can either save or print the sheet off to start using right away.
Using the Advanced Guide to SEO Checklist
Start by going through the document and making sure it includes everything you need. For example, let's say you scroll down to the "TESTING A NEW SITE BEFORE IT GOES LIVE" section and find that you constantly add plugins to your work. You could add something like "Test New Plugins" to the list of items below that section.
Just as you can change and add items to the list, you can do the same with the main categories that items are filled under.
After you have successfully gone through all the items and deleted anything that does not apply to the work you do, you can save the document or print the sheet out for a physical copy (Note, the document is quite large and will take up numerous printing pages).
Now you have everything you need for a successful SEO campaign.
Download: The Advanced Guide to SEO Checklist
X
Your free template will download in
5 seconds
.
Check out this offer while you wait!