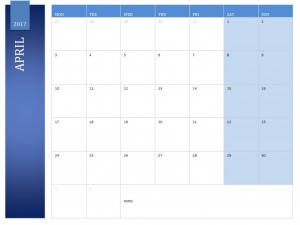 According to the April 2017 calendar, the month is a busy one for a variety of reasons. Within the month of April there are a number of holidays and special days of recognition. Download and print your very own Excel April 2017 calendar template for free right here today!
Major Religious Holidays on the April 2017 Calendar
April 1st, 2017 will fall on a Saturday. According to the April 2017 calendar, Sunday April 9th is Palm Sunday. Palm Sunday is celebrated in many Christian faiths. Palm Sunday is the week before Easter and marks the day that Jesus was greeted by thousands by waving palms. Palms are usually distributed following Sunday Mass or services.
Beginning on April 11th through the 18th, Passover will take place. Passover is celebrated by those of the Jewish faith. Passover is a time of fasting and celebration which lasts about one week. During the fasting phase of Passover the Jews believe that they are being cleansed of their sins through fasting. The last day of Passover is celebrated with a huge meal with a variety of special foods.
April 13th, according to the April 2017 calender, is Holy Thursday. Holy Thursday is followed by Good Friday, which is an important time within the Christian faith. Holy Thursday is celebrated in preparation of Easter.
Friday, April 14, 2017 is when Good Friday will be recognized. According to the Bible, Good Friday is the day that Jesus prepared to leave the Earth through his death. It is believed that Jesus Christ died between 11am and 3pm. Many Christians celebrate this day with fasting and prayer.
Sunday, April 16th is Easter Sunday. Easter Sunday is a celebration of Jesus Christ's rise from the dead after three days. Easter is recognized by Christians as well as Eastern Orthodox religions.
Other Days of Recognition on the Excel April 2017 Calendar Template
April 22nd is Earth Day. Earth Day is celebrated mainly by students who do something to show their appreciation for the earth and all it has to offer. Many students create some kind of project to recognize Earth Day.
April 26th on the April 2017 calendar is Administrative/Secretary Day. This is not a major holiday, but it is a day when secretaries and other administrative workers are remembered. Usually flowers are given to the workers and some may be taken to lunch.
Download: Excel April 2017 Calendar Template
X
Your free template will download in
5 seconds
.
Check out this offer while you wait!