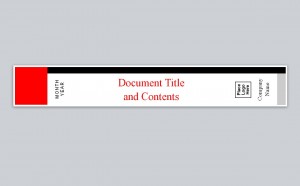 Using an Avery binder spine template style document is a good idea when you have limited funds to buy new tabs for the spines of your binders. All that you need is a free template such as this one offered, printer paper and some scissors in order to cut them out. It takes no time at all to make these tabs, and is simple to do.
How to Use the Comparable Avery Binder Spine Template
In order to use the Avery Binder Spine Template style, sheet; you first have to type the month and the year on the top of the template. The tabs start at the far left side.
Next, you have to put in the document title and contents of the binder in place of the words on the given tab.
The third step is to place your company logo picture, if you have one, into the small box where it says "company logo."
The last step is to fill in the bottom where it says "Company name" with your company's name, and use printer paper in order to print out all of the binder spine templates. Put them into the spines of your documents, similar to Avery binders. Enjoy!
Tips on Using the Compatible Avery Binder Spine Template
Make sure to only print out as many tabs as you need, otherwise you will lose money from all the printing.
Using this template in order to make binder tabs works the best when you have in your possession more than a couple binders that you need tabs for.
These tabs fit Avery binders, and only fit the spine. Do not in any circumstance use them on any other binder when there is no guarantee that you will be able to fit them into the spine of the binder.
Use different descriptions about what is included in each binder. That way, you will know which binder contains what documents and information. It makes it ten times easier to be organized when you do this.
Download: Similar to Avery Binder Spine Template
We here at MyExcelTemplates.com do not sell any type of Avery® branded product. "Avery ®" as well as other Avery-branded product names & SKU trademarks are property of Avery Dennison Corporation.  No content or templates on MyExcelTemplates.com are sponsored or endorsed by Avery Dennison.
X
Your free template will download in
5 seconds
.
Check out this offer while you wait!