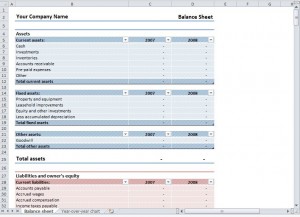 For any business to keep an accurate track of finances, it is necessary to have a properly filled out balance sheet. This balance sheet not only allows you to keep a track of where money comes and goes from, but it also gives a broad idea of the company's success. It is no secret that filling out, and calculating, a budget sheet is not easy. That is why there is a downloadable balance sheet template available. The FREE Balance Sheet Template from MyExcelTemplates.com is an incredibly useful option for business owners and financial managers. Not to mention, it's a lot easier than trying to create a balance sheet yourself.
Why Download the Balance Sheet Template for Your Organization's Financial Tracking?
This excel balance sheet template is particularly useful because all the sections have already been outlined. The balance sheet template has two main sections: assets and liabilities + owner's equity. Within assets, there are current assets, fixed assets, and other assets. Current assets include cash, accounts receivable, inventory, and short-term investments. Fixed assets include long-term investments, intangible assets, and other items such as plants, properties, and equipment.
Current liabilities include accounts payable, short-term loans, income taxes, accrued salaries, and unearned revenue. Long-term liabilities include long-term debt and deferred income tax. Owner's equity refers to owner's investment and retained earnings.
Using this template is fairly straightforward, because all you have to do is input values in the given fields. Once you have gotten accurate calculations for each section, you will be able to get a figure for total assets, total liabilities and total owner's equity. The pre-included sections in the balance sheet can be edited. This excel balance sheet template allows you to add any sections that may be specific to your business. Just ensure that all your figures are correct because even one or two wrong inputs can result in a wholly inaccurate estimate of total assets or liabilities.
Looking at a balance sheet becomes a lot simpler with the free balance sheet template. Instead of spending hours with a calculator, all you have to do is fill in the fields and the calculations are done automatically. This balance sheet can be printed out, emailed, or copied onto other computers. Create separate sheets for each year, and simply copy/paste the original template onto the new sheet when needed.
Download the Balance Sheet Template from Microsoft Office: Balance Sheet Template
X
Your free template will download in
5 seconds
.
Check out this offer while you wait!