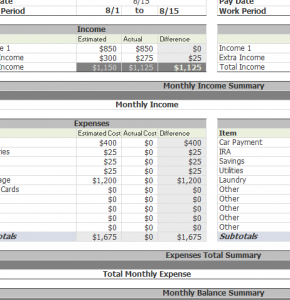 By using the Bi-Weekly Budget Sheet you will be able to take charge of your expenses and comfortably manage your income and bills to plan for your future. The Budget Sheet is simple and easy to customize to suit your unique lifestyle. The Bi-Weekly Budget Sheet will give you a place to list all of your recurring expenses and calculate the difference between them on a monthly basis. This way you will gain the knowledge necessary to adjust your spending and get your life back on track.
Bi-Weekly Budget Sheet User Manual
After downloading the free file below you can start entering your own financial information.
The top two boxes allow you to enter the dates of your two week pay periods of the month. From there you simply enter your "estimated" and "actual" income to get a sense of what you actually make per check verses what you think you make. The difference between the two numbers will be calculated to the right of these two columns.
The "Monthly Income Summary" is the main table in which you will enter the breakdown for each of your recurring expenses. The Budget Sheet will provide you with a list of common items, such as: groceries, gas, and your credit card bill. You can also add new items into the sections marked "other" to personalize the template to fit your needs.
The last two tables are designed to give you a valuable perspective on your monthly spending. In the "Total Monthly Expense" section of the template will automatically calculate your estimated and actual totals for monthly expenses and the "Monthly Balance Summary" will provide you with an overview of your income. This way you have a simple and practical comparison of both total figures.
Why Use the Bi-Weekly Budget Sheet
By gaining insight into your monthly income and expenses you are better able to adjust your spending habits to apply more money to debt or to savings and plan a brighter future. The Budget Sheet will make everything easier by calculating all of your finances and illustrating a plain and simple overview for you to see and allocate money to make your life what you want it to be.
Download: Bi-Weekly Budget Sheet
X
Your free template will download in
5 seconds
.
Check out this offer while you wait!