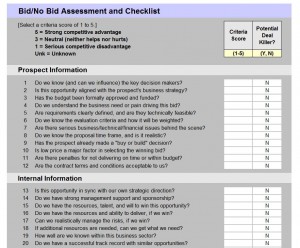 A Bid Assessment Checklist enables companies that pursue revenue through bids to maximize the effectiveness of their efforts by targeting clients who offer the most benefit for the time, resources, and money invested in doing the work. This Bid Assessment Checklist serves as a guide for thoroughly evaluating each client in three relevant areas — the information that is known about the client or that can be discovered through research, the internal information needed to consider how a winning bid affects the company, and information on competitors and on future marketing efforts that affect the bidding decision. This customizable, easy-to-use template is available as a free download here on this page.
How to Use the Bid Assessment Checklist for Excel
Evaluate the appropriateness of the criteria provided and customize the checklist by changing, adding, or deleting criteria as needed.
Assign a score to each criteria for which the information is known, basing the score on whether the information positions the company in a favorable position, an unfavorable position, or has no effect on the company's position.
Research criteria that have been marked as unknown to gather sufficient information to assign a criteria score.
Consider each criteria that has received an unfavorable score and determine whether the impact on the company is so negative that that criteria must be a deal-breaker.
Calculate the total of the criteria score points.
Count and record the number of deal-breaking criteria.
Record the number of criteria scores that place the company at a serious competitive disadvantage.
Record the number of criteria scores still marked as unknowns after research has been completed.
Tips on Using the Bid Assessment Checklist for Excel
Periodically review bids that have been placed by the company.
Assess the effect of the bids that have been won on the company as compared to the impact predicted by the Bid Assessment Checklist.
Determine whether some criteria need to be changed or whether different criteria need to be added to produce a more favorable result in evaluating whether or not to place a bid.
Customizing this Bid Assessment Checklist to fit the needs or your business, and periodically reviewing the results of bids and updating the checklist accordingly, will improve your company's revenue, and the value clients bring to your company beyond the revenue they provide.
Download: Bid Assessment Checklist
X
Your free template will download in
5 seconds
.
Check out this offer while you wait!