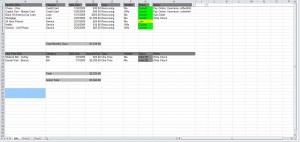 Despite both promises of plummeting – and skyrocketing – economic speculations towards the end of 2013, it seems that the majority of Americans seem to fall somewhere on a predictably stagnate debt path.
According to a recent report by Bloomberg, consumer borrowing rose this past December for a fifth straight month, boasting a $14.6 billion gain. And non-revolving credit debt, including those immovable expenses like student and auto loans, remained outstanding.
Throughout the most recent recession, most Americans put bill paying as a priority, especially when it came to credit. But as we painfully creep in the current economic downturn, it seems that credit card bills aren't the only payments not being made on time.
But although various financial obligations, coupled with an unfortunate economic climate, tend to have unfortunate effects on consumer bill-paying habits, you could also suggest that a certain amount of disorganization might play a part. According to a recent report by the Huffington Post, fewer and fewer Americans are paying their bills on time. And more often than not, this negligence can be attributed to a rise in rates (often from a missed payment), or failure to manage expenses, and prioritize on importance.
With a financial organizing tool like the Bill Organizer from MyExcelTemplates.com, consumers can learn to apply a certain level of organization to their personal finances, as well as help to alleviate the strain of a suffocating financial storm.
How to Use the Bill Organizer for Your Payment Planning
Separate bills based on their frequency. The Bill Organizer spreadsheet contains sections for both monthly, and one-time bills.
Categorize bills based on their type (loan, service, credit card), as well as by due date, amount and handler. 
Designate whether the bill was paid on-time or not. This will be a hugely predictive indicator as to whether specific rates will rise.
Keep track of any particular noteworthy occurrences. Was the bill paid automatically, or by hand? Did you have difficulty in paying it? Keeping track of these questions will aid in your future bill-organizing process.
What Happens If I Can't Pay My Bills On Time?
Although we tend to receive an enormous influx of bills every month, it's common for families to feel strapped and stressed. However, with the proper planning, there are a number of ways to alleviate that financial stress.
Pay off your highest-priority bills first. This would include your most immovable expenses (student & auto loans), as well as things like rent and mortgage. Also try to chip away at those bills with the highest interest rates.
Contact your creditors to explain your situation. It's an issue creditors tend to see quite a bit, so don't be afraid to ask for a reduced rate.
Shop for cheaper insurance, or opt for a higher deductible.
Find ways to rake in a second income. This could include any freelance opportunities you might be able to conjure up, or the selling of high-price assets.
X
Your free template will download in
5 seconds
.
Check out this offer while you wait!