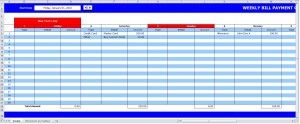 Bill paying tends to be one of the more, if not most, frustrating aspect to financial maintenance.
Every month, several white envelopes stuff our mailboxes, all detailed with several red statements, negative dashes and steep number signs.
But while bill paying remains a constant for any adult, it can also be an unfortunately disorganized process. Between managing your finances and keeping track of continually-switching due dates, it can be easy to fall victim to a dreaded late, or missed, monthly payment.
However, not every bill-payment scenario has to play out in tables scattered with dozens of statements, while you consider tearing your hear out. With an easy-to-maneuver, simplistic template like the Bill Payment Schedule from MyExcelTemplates.com, adults can effectively manage their finances, and plan for the future.
How to Use the Bill Payment Schedule Template
Designate specific bill payment schedules on a weekly schedule. This includes holidays.
Allot the type of bill, any specific details regarding it, type of tender used, and the total amount.
Configure the total amount paid for any given week. Simply add the designated "amount" column vertically. This will allow you to assess your total bill payment schedule from a more overarching perspective.
Which Bills Do I Pay First?
Although the Bill Payment Schedule will help you to organize your bill processing, the decision of what types of bills to seal and send first can baffle more than a few consumers. And with so many bills stuffing our mailboxes every month, it's crucial to ensure these pesky – but immovable – expenses get taken care right off the bat.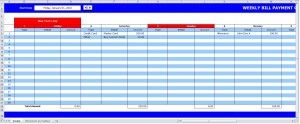 Student Loans. If you're still saddled with a sizable amount of student loans, and haven't signed up for an automatic bill-payment program yet, you should. Student loans are one of the most immovable kinds of debt you can carry, so don't expect the government to pardon you anytime soon.
Real Estate Taxes. Although your rent or mortgage payment remains a priority, real estate taxes tend to be just as crucial of an expense to ensure gets paid.
Auto Loans. Although a default on your auto loan will most certainly mean a repossessed vehicle, it will also equate to a ravaged credit score. Before you opt to start making payments on a new or used vehicle, always ensure you'll be able to comfortably make the monthly payments, and for however long the loan's life may be.
X
Your free template will download in
5 seconds
.
Check out this offer while you wait!