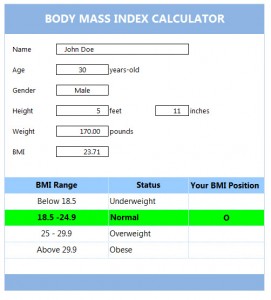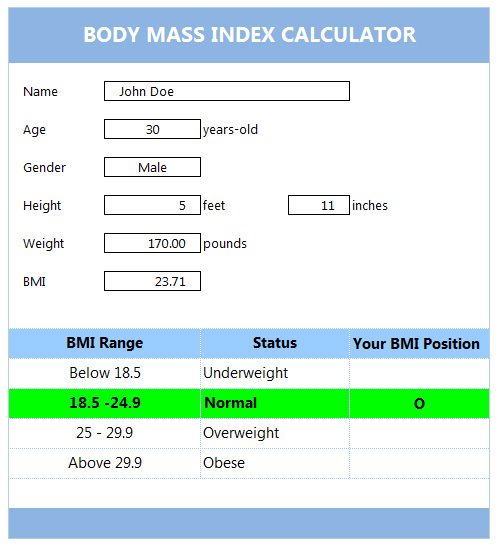 Keeping track of your health has become increasingly popular, especially with all the new diets that have been becoming mainstream. Tracking factors such as heart rate, weight, and basal metabolic rate all have their part in measuring a person's wellness. One of the most measured factors is BMI, which is body mass index. This is the measurement of body fat based on height and weight of a person. In layman's terms, it tells you if you're overweight depending on your height and weight. My Excel Templates offers a free BMI Calculator that is easy to use and follow.
Using the Excel BMI Calculator
Measuring your body mass index has never been so effortless. Just open the Excel BMI calculator in your version of Microsoft Excel or other software that is compatible. Our simple instructions make it easy to use the calculator.
After opening the calculator, enter your name.
Then enter your age and gender. These are needed in case you want to print out your results.
Next, enter your height. This needs to be accurate to give you a proper BMI reading.
Lastly, insert your correct weight. If you need to, get on a scale and record the reading.
Please note that all these fields need to be completed with accurate measurements in order for the BMI calculator to give you an accurate reading. You're only cheating yourself if you lie!
After entering your values, your BMI range will be highlighted in the bottom table. The calculator will tell you if you're underweight, overweight, normal, or obese.
Tips for Using the BMI Calculator
Don't lie when entering your information. It will only make your results less accurate.
We have good news for you metric system fans! If you click the field marked "height," you can choose to use centimeters of feet. Change your weight to kilograms by clicking the "pounds" field.
The next time you need to calculate your BMI, look no further than this calculator. It's a small file to download and takes almost no time at all to use.
Download: BMI Calculator
X
Your free template will download in
5 seconds
.
Check out this offer while you wait!