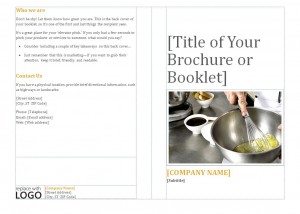 Creating a booklet for your business, product or services can boost your business and can give your company the proper brand imaging you need to bring your success to the next level. Sometimes, simply getting the name of your business out is the first step you need to take to start seeing results. Much of the time, we are so invested in our own businesses and products that we lose sight of the simple demand for information. What exactly is your product? What does your business offer? The answers to these questions should be obviously stated and clear to your audience with a booklet template. Today, in a world of information overload and short attention spans, it is important to grab your consumer immediately. Give them all the information they need to know about your product.
The Booklet Template is A Business-Savvy Alternative
This Booklet Template is the perfect alternative to hiring a team of professionals to brand and market your business. After all, you know your business and what you have to offer more than anyone else does! You can easily download this fully customizable Booklet Template, here! Right now!
How to Use Your Booklet Template
Get on the fast track to branding your business and getting more information to your consumers. Simply input the name of your business in the "company name" section of the template. You can include a subtitle in your Booklet Template if you want to be more specific about a certain service or product associated with your business.
Next, you need a title for your brochure or booklet. This is a large portion of the template for a reason! This should be an eye-catching slogan of sorts. For instance, if you're brochure is about a pool cleaning service, you may want to entitle your brochure, "Take A Splash into [COMPANY NAME]!" After you've entitled your Booklet Template, you need to give the consumer information about what your company offers. This can be thought of as a standard "About Us" section. Bullet point 2 or 3 concrete sentences about your company.
The more clear and short the sentence- the better. You want to give them as much information as possible in the least amount of words. Try not to ramble! Finally, don't forget to include contact information and a brand logo. It is important that your consumers can immediately access your company via email, telephone, mail or a website. The brand logo is optional but can be extremely helpful when trying to solidify and legitimize your business.
So what are you waiting for? Download your Booklet Template, here, today!
Download: Booklet Template
X
Your free template will download in
5 seconds
.
Check out this offer while you wait!