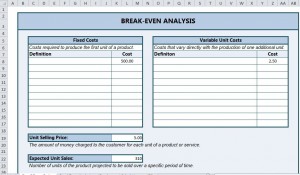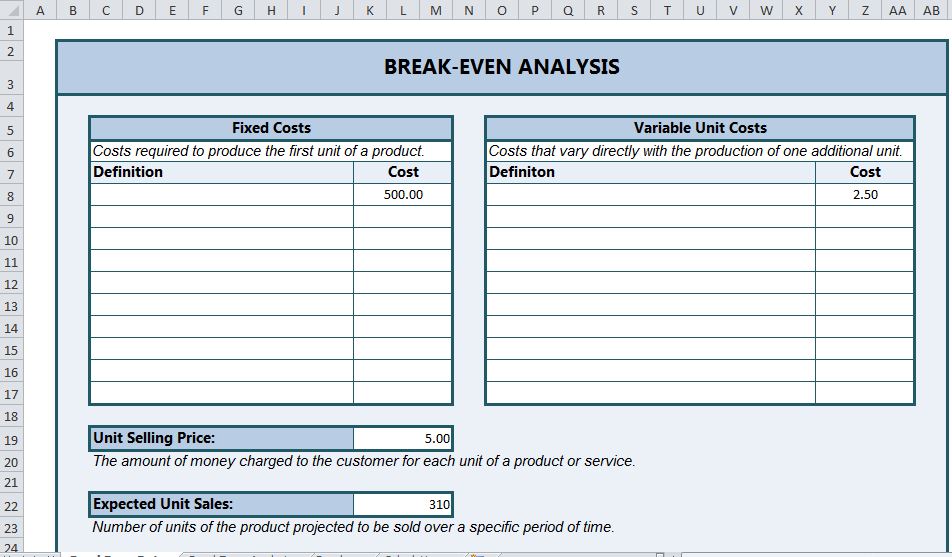 Breaking even is something that every business needs to strive for, because it is the only way to stay financially afloat. While there is nothing wrong with borrowing money and posting a loss for a few quarters, that cannot continue in the long term. The Break even analysis template will help small businesses understand their fixed and variable costs. Having all the costs in one place will help in getting an accurate figure for expenses during a given quarter. Once these expenses are compared to revenues, you will have a break even analysis. Use the break even analysis spreadsheet to help you.
The break even analysis spreadsheet is very easy to operate. The break even analysis excel template is free, and can be downloaded from MyExcelTemplates.com. When the break even analysis excel template is done downloading, open it in Microsoft Excel and begin editing as you wish. This break even analysis Excel template has various sections for fixed and variable expenses. This makes it easier to enter the figures.
The break even analysis template has sections for inventory, supplies, advertising, travel expenses, rent, telephone bills, accounting, interest, depreciation, taxes, insurance, utilities, salaries, and direct labor expenses. Each of these expenses can be divided into two categories. There are fixed costs that occur every month/quarter/year, and there are variable expenses that can change depending on the situation. For example, there may be a month where you had an increase in direct labor expenses. Another quarter may bring about added advertising expenses as new products are being launched.
Do not forget to separate fixed and variable expenses as it will give you a better idea of where money can be saved. Be as accurate as possible with your entries in the break even analysis excel template, otherwise you will come to inaccurate break even conclusions.
The break even analysis excel template is perfect for those who are starting a small business. It is a great way to keep a track of expenses, without spending too much time and energy. Instead of creating your own spreadsheets, simply download and edit this one.
Tips for Using the Break Even Analysis Excel
Add the fixed costs before the variable expenses as it will give you an idea of your base costs per month/quarter/year.
Update the sheet on a weekly basis so that the data is up to date, accurate, and informative.
Create a separate save as you enter a new month/quarter/year. This will help you keep track of your past expenses, and give you a reference point for each spreadsheet.
Download the Break Even Analysis Excel from Microsoft Office: Break Even Analysis Excel
X
Your free template will download in
5 seconds
.
Check out this offer while you wait!