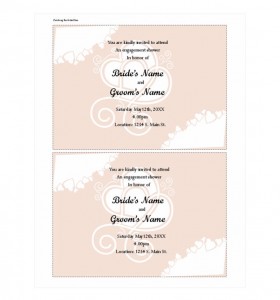 Weddings are special occasions themselves, and having them organized from start to finish always requires that invitations need to be sent to perspective guests, the bridal party, parents of the bride and groom, etc. Invitations are formal notices, and people most likely respond in a positive manner. The only problem with formal invitations is that they can detract from a wedding budget upwards toward thousands of dollars. This is an expenditure most people don't want, so a reasonable do-it-yourself option to make Bridal Shower Invitations is a great idea.
Invitations are a way to keep all the events related to the wedding focused and timed. Invitations keep guests informed and serves as a great record-keeper as well. These invitations are as important as any other aspect of wedding planning.
Using the Bridal Shower Invitations Template
When it comes to Bridal Shower Invitations, it is a good idea to create one with all the pertinent information in the body of the invitation. This would include the name, address and time of the venue, the persons who are invited, and even information regarding where the bride is registered for wedding gifts. Well executed Bridal Shower Invitations continue the excitement and the grandeur of the special day for the bride and her bridal party.
Bridal Shower Invitations need not be an expensive investment to make the event go well. MyExcelTemplates.com is the place where beautiful invitations can be crafted and customized and downloaded for free.
Bridal Shower Invitations need not be on parchment or burn-out appliqued paper. These invitations can be as casual or whimsical as any part of the theme of the wedding. Customizing them for a fun time is the best way to go. All pertinent information concerning the bridal shower should be directly on the invitation, and it should be linked somehow to the wedding invitation. Matching colors, fonts, and design should be taken into consideration as well for the Bridal Shower Invitations.
MyExcelTemplates.com is the site where all the bride needs is an imagination and a theme in mind. All invitations are customizable to make that day special, downloadable to any printer, and most of all, free.
Download: Bridal Shower Invitations
X
Your free template will download in
5 seconds
.
Check out this offer while you wait!