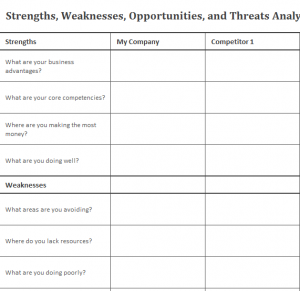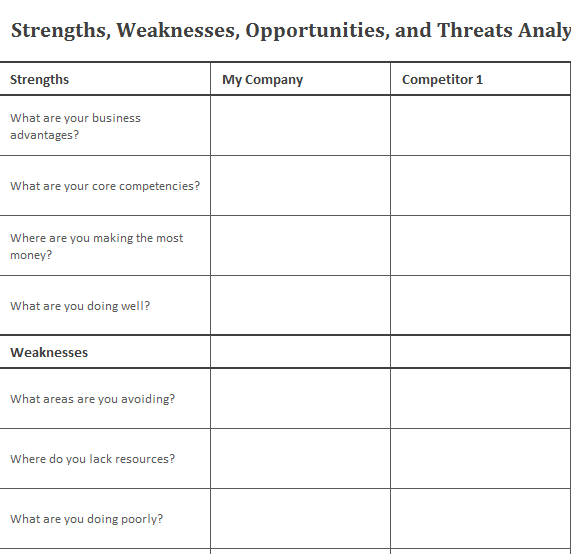 The Business SWOT Analysis Chart is one of the best tools for any business owner or investor to properly analyze the value of a particular business venture based on tried and true approaches to measuring estimated worth. The template is designed to evaluate the strengths, weaknesses, opportunities, and threats involved in your new business venture. The Analysis Chart is structured for you to enter a few simple pieces of information and easily understand the value of any business endeavor. Now you can have the confidence to invest in a new business or product by knowing the essential information.
How to Use the Business SWOT Analysis Chart
Start by downloading the free file located at the bottom of this page and clicking the link provided.
Each category is conveniently listed for you to read and then fill out. You can begin by going through the list and entering the information provided into each blank space.
The first section is where you can list the strengths of your business venture. The column to the far left will ask you specific questions about your business's strengths and you will answer them in the adjacent column marked "My Company".
The next section is where you will list your business's weaknesses. Here you will be able to reflect on your business's weak points and perhaps things that can be improved, especially when you compare those weaknesses to those of your competitors. You can also assess your business's opportunities and threats associated with your new venture.
On the "Competitor Information" tab you can list the information for businesses within a similar market as your product or service, to get a more detailed description of their cash flow as well. You want to be able to compare every aspect of their business and see how yours will compare.
How Does the Business SWOT Analysis Chart Help You?
By analyzing the strengths and weaknesses of your next business venture and comparing those elements with similar businesses that you will eventually compete with, you gain a better understanding of how well your business will do in the future. Have the knowledge you need to succeed with sound projections at your disposal.
Download: Business SWOT Analysis Chart
X
Your free template will download in
5 seconds
.
Check out this offer while you wait!